Snark Guitar And Instrument Tuners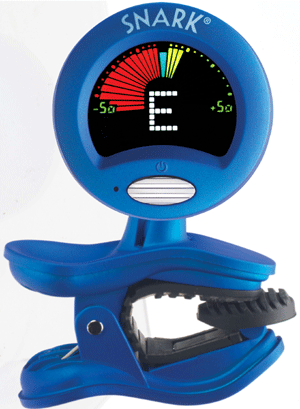 I've been using the Snark All Instruments Tuner on my Hardluck Kings Bossman guitar for about two weeks now. It clips on the headstock and stays there even when I put the guitar back in the case. The Snark Tuner comes as a chromatic full-range version for all instruments (In red at $39) and also as a guitar tuner (In blue at $29--shown). Both models feature easy-to-see full color LCD displays and I found them very precise at easily reading pitch with sufficient resolution and speed so I can pull my instrument in tune fast.
I also liked, that with either tuner, the cute round "eye" display swivels freely 360 degrees to aim back at you, down the neck or whatever direction you require. It runs on an included watch battery and has a large silver button to toggle it on/off easily. There are two tuning modes: vibration where the tuner is sensitive to your guitars vibration--even decent electric guitars trigger it well and the microphone mode for acoustical tuning.
Features continue with a tap tempo button that flashes the tempo as a pink heart and as a digital readout in BPM. This is a good one for solo casual gigs to put yourself on tempo There is also a transposition mode for alternate tunings and a calibration adjustment if you work in Europe where A may not be 440Hz.
Snark is cute and toy-like but don't let that fool you. It is a worthwhile, precision tool no musician should be without. Check www.snarktuners.com.
---
Web Page design is copyright © 2010 by Barry Rudolph