Sonic Reality Serafine FX Tron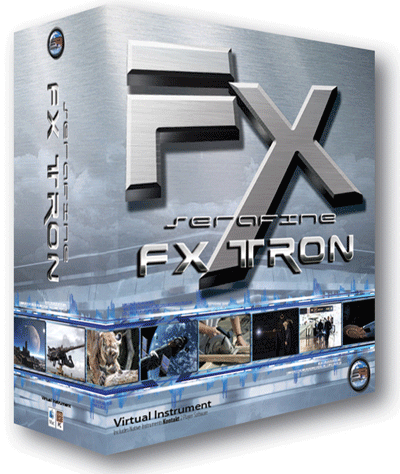 First-call sound effects whiz Frank Serafine lends his name and his top of the line sound effect collections to a new Infinite Player virtual instrument powered by Kontakt. Called FX Tron, it is a sound effects workstation that comes with a wide range of sound effects for film, TV, games, radio, music or any multimedia project. It works standalone or as a plug-in for DAWs such as Logic, ProTools, Cubase and many others. The Infinity Player along with over 17 gigabytes of thousands of drag and drop sound effects, built-in DSP effects and convolution ambience come as a six DVD-ROM set. You can also buy it pre-installed on the new Infinite HD hard drive.

I loaded up FX Tron into my Pro Tools rig and was presented with preconfigured groups of related sound effects called Multis (multi-samples) ready to be "preformed" to picture (if you like)--using a USB/MIDI keyboard. If you have not used a Kontakt-based player before, know that each sample in a Multi has a mixer, can be truncated, altered in pitch and time to fit and processed through a set of a synth-like filters and more. Individual samples are also available to be layered, processed, and manipulated in any way you like.

Although I am a music mixer, I've already conjured up plenty of uses for all the evocative soundscapes this workstation can help you create. If you wanted to build a "vibey" background for an industrial Rock track, you might try "Computer Running" or "Servo Machine." I also found the search ability of the Infinite Player essential for locating just the right noise for adding sound effects to picture--this feature will save hours of hunting and auditioning.

FX Tron shapes up to be one of those "how did I ever get along without it" products and it is a must-have for any composer, media producer, post production house, DJ or music creator looking for film quality sound effects for their music or media productions. Check out audio demos from Serafine FX Tron called: Fx Tron Elevators, Fx Tron Animals, Fx Tron Nature, Fx Tron Industrial, Fx Tron Car, and Fx Tron Sci Fi. The DVD version (as tested) sells for $995 and the hard drive version is $1,149. Learn more about FX Tron and Frank Serafine at www.sonicreality.com.







---
Web Page design is copyright © 2010 by Barry Rudolph