Sony MHS-PM5 bloggie™ Camera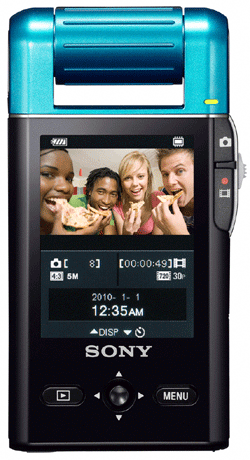 Sony's new MHS-PM5 bloggie camera provides a simple way to shoot high-quality MP4 video and still photos, store them on a SD memory card or Sony Memory Stick® (both plug into the same slot on the camera's side) and then, via the built-in USB connector, upload them into your computer for sharing with friends on YouTube™, Dailymotion™ or Photobucket™.

The PM5 captures in full high definition--up to 1920x1080 resolution video and up to 5-megapixel still photos. It's small--about the size of a smaller cell phone, has an USB-rechargeable battery for 95-minutes of recording time, and comes in stylish dark purple, blue, pink, and white colors.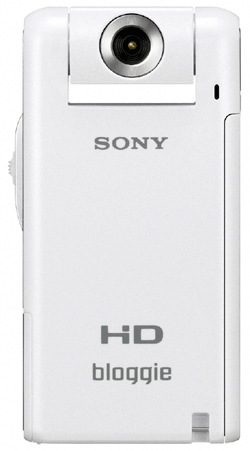 MC writer Denise Mourges was sent an MHS-PM5 camera for evaluation and put it to the test for three days at the 2010 Coachella Festival. Sony Computer Entertainment America teamed up with Coachella for the eighth consecutive year to provide festival goers with exciting PlayStation experiences and, this year, additionally offered fans the chance to capture their memories with the bloggie.
Denise liked the MHS-PM5's vertical design and the unit's 2.4-inch LCD screen that makes shooting fun and easy. The camera comes to life as soon as its swivel/tilt lens is rotated anywhere in a 270-degree arc. She found this unique feature excellent for taking videos of herself for personal blogging or holding the camera up high and shooting over the heads of the crowd because she was able to still see the LCD--periscopically.
The 4x optical zoom was super for capturing all the action and Denise commented: "At the end of day three of Coachella, the sun was setting and I was surrounded by the swirl of the record-breaking crowd and music from five stages. I slowly panned my bloggie 360-degrees to capture how this moment looked, sounded and felt like in HD."
During the sometimes chaotic concert, the SteadyShot® image stabilization worked great to reduce shaking although it's not usable in HD 1920x1080/30p and 1280x720/60p recording modes. Other things: bloggie has an HDMI output for video playbacks on a HD television, a threaded tripod mount, Face Detection technology to recognize faces and automatically correct exposure, and there's a very handy small monitor speaker but no headphone jack.
Selling for $170, the rugged MHS-PM5 bloggie survived Coachella and comes with everything you need including PC/MAC computer software to start shooting your next cinematic opus. At $190, the MHS-PM5K is a bundled kit that also includes an additional lens to make 360-degree videos that can be viewed on a computer using the supplied software. Bloggie cameras are sold online at www.sonystyle.com/bloggie.
---
Web Page design is copyright © 2010 by Barry Rudolph