SoundToys Decapitator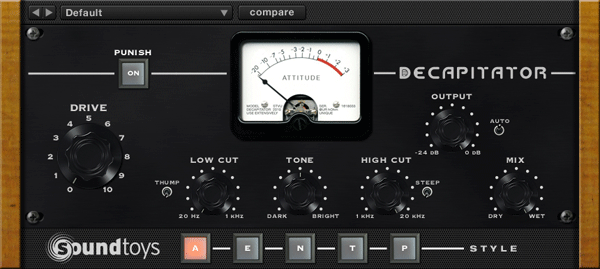 Decapitator is an analog saturation modeling plug-in and, along with PanMan, they are the newest plug-ins from SoundToys. They are exclusive to their new TDM and RTAS Effects Version 4 bundles that include eleven unique plug-ins including EchoBoy and FilterFreak.
For many music engineers and producers the main reason to use analog gear--especially old vintage units are the unique "colors" they bring to the sound when operated past or close to their maximum signal level capability. Decapitator models the saturation or distortion created when overdriving professional analog studio equipment.
The plug-in has five modeled Styles: A is the sound of an old analog Ampex® 350 tube tape recorder electronics; E emulates a Chandler®/EMI® TG® Channel; N is for a Neve 1057 input channel; T sounds like audio going through the very expensive Thermionic Culture Vulture® set in triode mode for even harmonic distortion; and P is the same unit set in pentode mode--better for odd harmonic distortion. A working knowledge of these hardware units is not required at all but your ears will tell you which is best for your purposes.
And my ears tell me Decapitator works wonderfully on all sources that otherwise are just too clean, present and sterile sounding. The GUI is very simple--much like an old vintage tube processor with High Cut and Low Cut tone controls plus a Tone knob that goes beyond what any old hardware unit can do.
I liked the Punish button that turbo-boosts the throughput gain for "blowing up" the signal. There is also the Mix control that allows for the subtle blending of the original sound with the "roughed up" sound of Decapitator.
I installed Decapitator in my Pro Tools HD rig--it runs as TDM/RTAS/AudioSuite as well as AU and VST in both MACs and PCs. My first task was on an already fairly unclean electric guitar track. It's odd that sometimes Rock rhythm electric guitars are recorded a little too clean and thin and don't mesh with the rest of the track very well. I use the A style in Decapitator, 3.5 on the Drive control, rolled some top and bottom off, and I turned on Thump. Thump kicks in a resonant filter "bump" or peak exactly at the frequency where the Low Cut filter starts to roll off bass. The end result was a very thick and well-saturated guitar track that better fit the whole vibe of the track.
Next I Decapitated a stereo drum track. This time I used the T style for its smoother character, about a 5 on the Drive control and turned the Tone knob just a little past 12 noon. The Tone control slims down the bottom end as you move it towards the treble side. This works well to reduced the increase in the bass drum level when boosting through the plug.
At my settings, the overall effect on the kit's sound is one of vibey compressor. If you turn on Punish, the sound goes directly to something sounding like one of the samples in the collection from Turbulent Filth Monsters.
I did use Punish on my next track--a lead vocal where the producer wanted a certain spoken phrase to sound small and very angry. I cut significantly into the bass end with the Low Cut set at around 800Hz, Drive set to 1 all running under the P Style.
I liked that, through all of these uses, Decapitator's Auto function keeps a lid on the concomitant output level increase when overdriving any analog system. This feature makes A/Bing the source, with and without Decapitator, much easier. There is still an increase in volume but not a ridiculous increase that would necessitate changing the fader level every time you switch Decapitator in and out.
I found Decapitator to work flawlessly and offer more control in a more straight-ahead way than any of my other saturation or distortion plug-ins. No need to study any manual here--the GUI (like all the SoundToys plug-ins) is totally intuitive. Decapitator is an evocative processor you'll find many uses for mixing and sound design. Decapitator gets big "thumbs up" from me.
There are demo versions posted at www.soundtoys.com. It sells as a single plug-in for $349 in TDM and $179 Native. The SoundToys TDM Effects Version 4 bundle sells for $1,195 and includes eleven plug-ins. Both Decapitator and PanMan are exclusive to V4 along with a new preset management system, and many new presets. The Version 4 upgrades cost $99 for Native and $199 for TDM. Check www.soundtoys.com for more information.
---
Web Page design is copyright © 2010 by Barry Rudolph