Spectrasonics 1.3 Update For Omnisphere and Trillian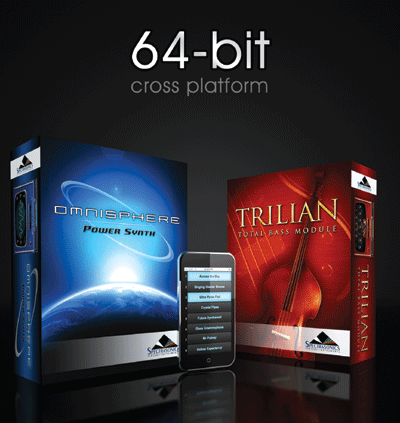 The new version 1.3 updates for Omnisphere® and Trillian® adds to the recent 1.2 update that joins them with Stylus RMX® for full 64-bit cross-platform support for Mac and Windows hosts.
All the instruments get improved browsers with a "Favorites" listing method of organization, a user-selected "Star Rating" for library sorting, and a Project Tag that ties any sound to a particular project.
Sonic and operational improvements include new synthesizer filter algorithms including 12dB/24db low pass/band pass/high pass configurations for Omnisphere and Trilian, and a new Sample File Server function that uses RAM outside the 32-bit memory limit of MAC computers running 32-bit hosts such as Pro Tools for loading Spectrasonics patches, allowing more plug-ins to run simultaneously than previously possible.
Version 1.3 adds: Latch performance freezes notes from any part in Live Stack mode; Trigger mode allows Omnisphere and Trilian parts to be synchronized and quantized in real-time performance; Sustain2 offers more realistic Rock-style bass playing from Trilian; Envelopes now have Groove Lock™ feature; and there are 121 new Omnisphere patches and 17 new "produced" Trilian Bass Multis and Patches.
The free iPhone app called Omni Live that turns an iPhone or iPod Touch into a wireless remote control for Omnisphere's Live Mode page. Other additions: triplet and dotted rhythmic resolution for Arpeggiator, numerous compatibility and support improvements for Apple's recent Logic 9.1 update and 64-bit memory addressing, and Vienna Ensemble Pro 64-bit support.
Omnisphere sells for $499, Trilian at $299 and the upgrade is free for registered owners. Stylus RMX Xpanded is $399. For more information visit www.spectrasonics.net.
---
Web Page design is copyright © 2010 by Barry Rudolph