Sterling Modular Systems Desks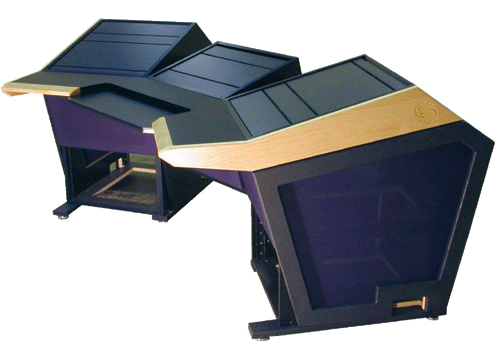 It might sound strange to say but one of the first things that separates a proper project studio from just a bunch of gear thrown into a spare bedroom is the furniture--specifically the workstation set up.
Is it functional, good-looking and fully conducive to an ergonomically efficient and clean workflow? Sterling Modular Systems has the Plan E station (pictured) at $2,900 that is ready for computer rigs from graphic artists, to video editors to music making and mastering folks.
It is no small trick to offer unique "off the shelf" studio furniture that looks custom-made. Sterling, who has worked and garnered feedback from professional in many creative fields, have refined their design over the years and produce these modular desk systems as well as offer custom and semi-customized audio furniture.
There are six standard modular designs for mastering/audio console furniture, (Plans A through F), that provide rack space for outboard signal processing, additional audio and LCD monitoring accessories, drawers and more. Each design allows for you to personally configure them to your needs for speaker platforms, keyboard shelves, and LCD screen arms with further customization possible.
Visit www.sterlingmodular.com.
---
Web Page design is copyright © 2010 by Barry Rudolph