Steven Slate Platinum Drums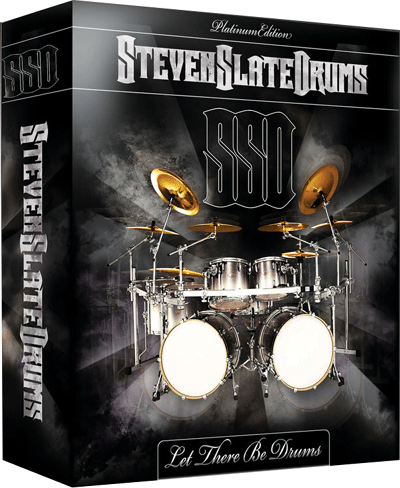 Drum sampler to the stars Steven Slate now offers some of his best stuff for us lowly music production punters. The Steven Slate Drums Platinum library contains over 40 drum kits including 13 kits that are authentic models of famous drum sounds from major artists. And just to fatten up this huge collection, there are 10 new hybrid kits with multi-layered kicks and snares.
Platinum runs RTAS, VST, or AU and as a standalone MIDI plug-in with presets for Roland V-Drum Modules. I installed it in my Pro Tools HD Accel rig and use the SSD Virtual Instrument powered by Kontakt Player3 (included) but you also get raw .wav files for drum replacement too. Lastly, it comes with hundreds of MIDI grooves played by "yo" L.A. session drummers.
Of special note is that all the samples are of wonderfully tuned drums and hand picked cymbals recorded in multiple velocities to two-inch tape first and then transferred to digital. So you get that unique tape compression sound and for certain groups of drum samples, Slate has processed them further using classic and rare analog gear.
My use (as a record mixer) for Platinum mostly hovers around drum replacement using Digi's Sound Replacer and occasionally, I'll add a loop or two to a mix. By the time you read this, Slate will release Digital TRIGGER, a drum replacement plug-in for live drum enhancement/replacement.
I've just started exploring all the sounds and velocity details and I love the way it is all organized--you'll get the hang of where everything is quickly. I like all the sounds--there is no wasted hard drive space with this collection--all samples are useable within any music production genre. Instead of looking all day for the right sound, I had to use a process of elimination--choosing amongst so many tight sounds is tough.
Platinum contains all modeled drum kits modeled after the drum sounds of finished mixed records of greats like Led Zeppelin, Steely Dan, Metallica, Green Day, AC/DC, Foo Fighters, Pantera, Nirvana, and Red Hot Chili Peppers.
Room mics were recorded at my old buddy Jay Baumgartner's dynamite-sounding NRG Recording Studio A. At www.stevenslatedrums.com/ check out the loads of demo samples and download or buy the box version of full Platinum for $329 or the new EX edition--10 kits from Platinum that are expandable with various expansion packs, You gonna like the way you sound!
---
Web Page design is copyright © 2010 by Barry Rudolph