T-Rex Mudhoney II Dual Distortion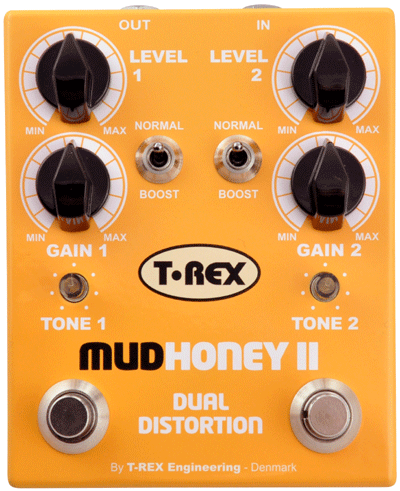 The MudHoney II has two completely separate Mudhoney pedals housed in a single unit. The Mudhoney was one of the Danish-based company's first pedals and is coveted for its wide tonal color and extreme variability. It's good to go all the way from smooth crunch to ridiculous distortion. The Model II gives you unambiguous control over the channels with smart, exclusive or logic switching: you can instantly change between them or bypass either. Only channel one or two is active at a time--they do not operate at the same time.

Each Mudhoney has three controls: Output Level, Gain, and a cool-looking yellow LED-lit clear Tone control knob. You are able to set up each Mudhoney however works out for your playing style and music. With two channels of vintage gain, you can easily switch between a clean sound (in bypass) from your amp, a nice edgy overdrive from the left side Mudhoney channel over to a thick and warm distortion from the right channel.

I put the Mudhoney II to use here at my Tones 4 $ Studios but the pedal is really a live player. I connected my Hard Luck Kings Bossman guitar to a ZT Club amp--an all-solid state amp that is very clean and loud. I set channel one to a crunch tone: Mode switch to Normal, Output at 11 to o'clock, Gain 1 at 9 and Tone 1 at 1 o'clock. I usually leave this in all the time to dirty up the sound for rhythm playing--a good sound from this amp and guitar combo.

Channel Two is for leads so it is set: Mode to Boost, Level 2 at 11, Gain 2 at 3 and Tone 2 at 3 o'clock. I like that there is no noise increase in either mode and I can adjust volume on amp itself, since it does not have a master volume, for any playing situation. In Boost mode there is loads of sustain and the guitar's sound is not covered up--it comes through perfectly.

Mudhoney II is well made inside and I especially like the smooth, easy to operate stomp buttons, that the in/out jacks are mounted on the front allowing for more lateral room on a pedal board and, of course the unit's compact size yet huge sound. It runs on a single nine-volt battery and sells for $369 MSRP. Much more information is at: www.t-rex-effects.com. You can purchase T-Rex Pedals direct from the T-Rex American Ambassador at www.selaneguitarstore.com.







---
Web Page design is copyright © 2010 by Barry Rudolph