Tascam DR-08 Pocket Recorder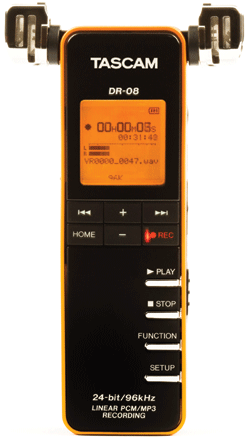 Tascam's DR-08 portable digital recorder captures sound directly at 44.1kHz/16-bit all the way up to a 96kHz/24-bit .WAV level of fidelity or back down to .MP3 (32k to 320 kbps) to save space on the MicroSD media card (2GB card included).

The DR-08 is small (37mm x 137.5mm x 15mm), slips into your pocket and goes anywhere. Looking like a "Micro-Transformer" bot the unit has two, built-in cardioid microphones mounted on an articulated mechanism that allows for changing the width and angle of the stereo pattern audio pickup. Weighing 77g (2.72oz), it has features borrowed from the DR-07 including a 'savant-like' auto level control and a low frequency roll-off to cut obnoxious room tone.

As a journalist, I liked that a 1/8-inch jack lets you plug in your own microphone for close miking interview subjects. And line-level sources go into the same jack--thoughtful I reckon. Also popular for us 'cub reporters' is the loop and variable speed on playback--slow down the recording's speed without changing its pitch. I suppose this feature could be a 'life-gig saver' for musicians trying to learn new songs for an upcoming show!

Other good features for such a small unit are: a cool-looking 96x96 backlit LCD display; noise canceling and EQ; auto record start based on an adjustable sound level; a two second pre-record buffer--so you won't miss the first moments of audio; a built-in kickstand for positioning the recorder a table for the best sound pickup; a pair of AAA batteries run it for hours; and the ability to transfer all recordings using the mini USB 2.0 jack. This is a solid unit and will sell for about $199 street price.

Check www.tascam.com for much more!







---
Web Page design is copyright © 2010 by Barry Rudolph