TC Electronic Bass Combo 450 Line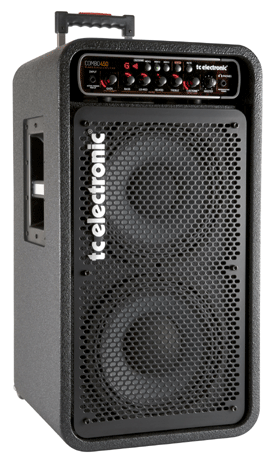 The original Combo450 ($1,949 MSRP) now has two siblings: the ComboClassic and ComboStaccato. The Combo450 married the RH450 amp to TC-customized Eminence drivers and special tweeter to deliver a clean, punchy and powerful sound. The two new combos fill out the range to provide the sonic requirements as dictated by many bassists to achieve their unique tone.

The ComboClassic ($1,689 MSRP), as the name implies, delivers pure classic tone and power using a vintage tone control section. ComboStaccato ($2,209 MSRP) is a custom-tuned amp made to the exact specifications of Tower Of Power and bass legend Rocco Prestia. It offers a full-bodied tone with ultra fast response to best amplify the percussive nature of Rocco's playing style.

All three combos deliver an impressive 450-watts under control of TC Electronic's Active PowerManagement™ system for maximum power impact--like a tube amp on 11. The cabinet configurations for all three combos feature two customized Eminence 10-inch drivers and a 1-inch tweeter housed in a cabinet made of 18-mm plywood with pull-up handle and detachable wheels. There are also speaker breakout connections to add additional cabinets plus any combo can drive combinations of any three TC cabinets.

Lastly, the TubeTone™ control section delivers all of the rich characteristics of a fat tube amp while SpectraComp™ adds bite and punch by allowing 'per string' compression. Much more at: www.tcelectronic.com/bass.asp.







---
Web Page design is copyright © 2010 by Barry Rudolph