Ultrasone HFI-680 Headphones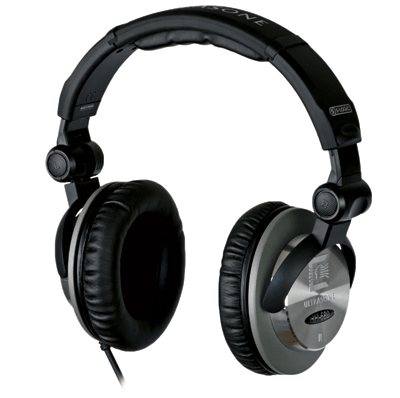 A couple of emerging technologies are at work within the Ultrasone HFI-680 headphones. These luxurious phones feature S-Logic™ Natural Surround Sound plus Mu-metal shielding (ULE-technology). Even though these are closed-back headphones with excellent isolation, S-Logic allows you to hear as if in a more open sound field. S-Logic also helps to protect your hearing-- (the technical reasons could fill text books so go to their Web site). The Mu-metal shielding isolates your head from the powerful magnets in the 40mm gold-plated drivers within these dynamic headphones. Any reduction in the amount of ANY radiation we "modern" humans are subjected to is always a good idea.
The HFI-680s have a frequency range of 15Hz-25kHz, a 75-ohm impedance, and weigh 285 grams without the included straight cord. Complete with 1/4-inch gold-plated adapter plug, these phones will go to 99dB in loudness.
I plugged in the HFI-680s and both my new Shure SRH-840 and trusty old AKG K271s into my Aphex Model 454 HeadPod. The HeadPod has four separate and identical amplifiers and all three of these headphones sell for over $200 each.
The AKGs are exceedingly flat sounding--"flat" as in adding no particular "love" to the sound. While excellent in an analytical sense to evaluate mixes or sound quality, they are not much fun to enjoy music on. The Shures sound great with a smooth top and robust low-end and are very close to the sound of HFI-680s. The 680s sound great-they have more top end openness--they are brighter and especially nice for listening to classical and Jazz recordings.
I found the HFI-680s very comfortable to wear with a better seal on my ears and head as compared to the Shures and AKGs. Because of their brighter sound, I have been scrutinizing my mixes lately with the 680s--compare what I am hearing on my main monitors. They go louder than I can take and their gleaming look is a big winner around my studio too.
The HFI-680s sells for 249MSRP. Check: www.ultrasone.com.
---
Web Page design is copyright © 2010 by Barry Rudolph