URS Phat C Compressor Plug-in

Read Barry's Mix Magazine Feature Article On Compression and Compressors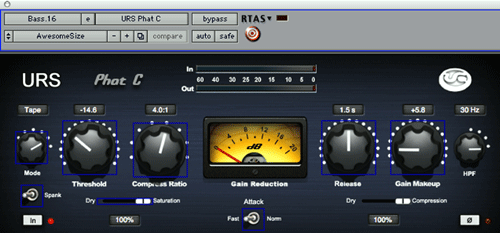 It's always a pleasure to use software designed by someone who has actually engineered a recording session or two. Bobby Nathan's URS company has the Phat C compressor plug-in that has many features us recording engineers look for in quality hardware--why should it be any different for software?
OK Phat C is a 'Swiss-army knife' of a compressor that allows you to fundamentally change a compressor's sonic footprint by the amount and type of saturation present--the major sonic difference between hardware compressors. Phat C's input stage has six saturation models that recreate vintage harmonics and soft clipping of: a VCA-based (voltage controlled amplifier) compressor, an opto unit such as an Teletronix LA-2A, an FET-base compressor like the UA 1176LN, and then the sound of a transformer saturating, tape saturation caused by needle-pinning record levels, and saturated, overdriven tube amplifiers.
Using Phat C on everything from bass guitars, to electrical guitars and vocals is a blast. I like the Wet/Dry controls of the compressor--it is the only way to accurate judge compression amount and sound when Make Up gain is nominally set back to unity gain. Phat C also adds a Wet/Dry slider for the Saturation and again, it's the best way to honestly tell if you're actually working towards a great compressor sound or not.
You get selectable ratios of 1.2:1 and 1:5.1 and then normal knee 2:1, 3:1, 4:1, 6:1, 8:1, 10:1 ratios with both a Fast and Normal attack time setting and adjustable release times from 50ms to 3 seconds. I like using it on drum tracks and then toggling through saturation modes--VCA, the cleanest through Tube by far the filthiest--you can get any sound you like here folks.
With loads of character and personality, I recommend Phat C for individual tracks when they just sort of lay there vibeless! Available in RTAS, AU, VST for Mac OSX Snow Leopard, Leopard, and Tiger and RTAS and VST for Windows 7, Windows Vista and Windows XP $249.99. More at www.ursplugins.com.
---
Web Page design is copyright © 2010 by Barry Rudolph