The Velvet Underground: An Illustrated History of A Walk On The Wild Side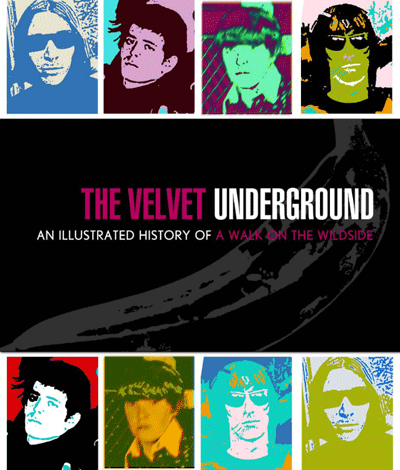 Much more important than a cult band and light-years away from being a mainstream Pop act, the Velvet Underground were a proto punk band that provided a jarring backdrop of musical noise for iconic front man Lou Reed's poetic and often disturbing street-wise lyrics. Author Jim DeRogatis gives us an illustrated history that chronicles the Velvets from their first beginnings with John Cale, Lou Reed and manager Andy Warhol up through their later incarnations and ultimate induction into the Rock and Roll Hall of Fame.

For any fan of this seminal and highly influential New York band, there is a lot to look at and study in this nearly 200-page coffee-table book. You'll see rare behind the scenes photos--occasionally brutal images of the late '60's--plus read copies of wonderful pieces of Warhol's memoirs about his own 'house band' at his Pop-Art Factory setting. There are contributions from Factory photographers Nat Finkelstein, Stephen Shore and Billy Name plus concert footage, vintage posters, handbills and more. Finally no book like this would be complete without the many insightful interviews by band members and photos from Exploding Plastic Inevitable dancer Gerard Malanga, No one said it better than Brian Eno about the VU's influence or so many Rock bands that continues today: "only five thousand people ever bought a Velvet Underground album, but everyone of them started a band."

From Voyageur Press, The Velvet Underground: An Illustrated History of A Walk On The Wild Side sells for $30.00. www.voyageurpress.com.




The Velvet Underground: An Illustrated History of A Walk On The Wild Side
---
Web Page design is copyright © 2009 by Barry Rudolph