VB AMP Box from Vocalbooth.com™
Vocal Booth Or Amp Enclosure Order Form Here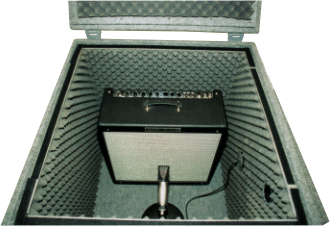 VB AMP Box™ is a portable amplifier enclosure for the sound isolation of guitar amps or cabs. With it you can play loud enough to get your favorite tones and record them in the same room as your studio.

A VB AMP Box has four fabric-covered sides and top plus a sound insulating foam-line base that all assemble together in about 15-minutes. They lock together using Velcro® straps and there is a convoluted foam-lined interior, a cable port and plenty of remaining space for a microphone and stand. The VB AMP Box ventilates heat buildup from your amp using a fan attached to a piece of flexible exhaust hose. VB also makes the VB Speaker Box™ the same size as the AMP Box but with no ventilation and a lower price.

I joined owner Gary Belz, chief engineer Doug Tyos and guitarist Bill McBee at Belz' House Of Blues Studios in Encino, CA to test their well-used Model AMP-4040V Large Amp Box. McBee played a Strat into a Mesa Electra Dyne head and a dual-twelve Mesa speaker cab placed inside the VB Amp Box.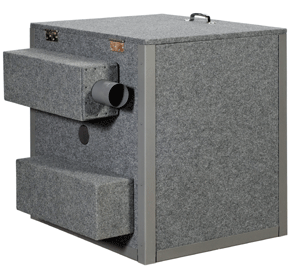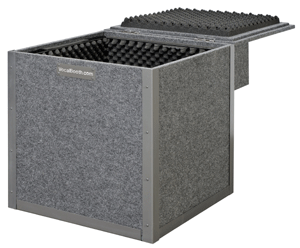 We found the sound was greatly reduced in level while listening in the room--about the same as playing through your amp while using form-fitting earplugs. Yet we got the same sound as without the AMP Box when we angled the cab 45-degrees off the inside of the front panel. We were careful to play at the same level with exactly same placement of the studio's Shure SM-57.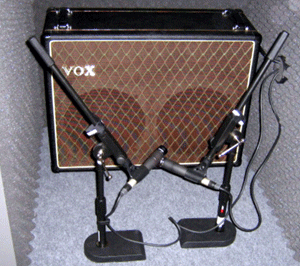 There are four sizes of VB AMP Boxes available each designed for any size amp or cabinets up to a Marshall 4 X 12. The VB AMP Box is perfect for studio use and for late night jamming when the rest of the world is sleeping. For much more information and pricing, go to: www.vocalbooth.com.
---
Web Page design is copyright © 2010 by Barry Rudolph