VOVOX Audio Cables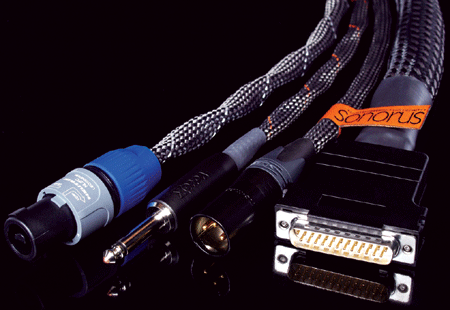 I got the coolest set of XLR cables for evaluation sent to me here at my Tones 4 $ Studios. They are by VOVOX and are made in Switzerland but Audio Plus now distributes them in the US and Canada. I noticed an immediate improvement in sound just by swapping out my tired homemade cables with a set of the Link™ Series VOVOX cables. These are heavier and more robust cables than I usually see in studios.

The VOVOX Link series of cables have silver-plated, oxygen-free copper conductor cable cores, while the VOVOX Sonorus™ line have ultra-pure copper cores. Both lines of cables are constructed by hand using small batches of separate parts including standard wire-core cable. Connecting microphones, outboard gear like compressors and EQs, A/D converters, and monitor systems require the best sounding and most durable cable and connectors available--after all the sound of your work passes through these conductors all the time, everyday!

VOVOX cables also come in versions with straight or right angle 1/4-inch plugs for guitar, bass and keyboard instruments where durability is equally important to sound. Again, why invest in a vintage guitar with a fantastic tone only to put its sound through a crappy cable?? Adding stomp boxes and pedals into the path using inferior connections only moves you further away from the true sound quality of your instrument.

Along with their transparent sound qualities, you'll find VOVOX cables more durable and great looking with their braided high-purity polymers covering a layer of natural fiber netting that is said to reduce microphonic noise.

VOVOX has instrument cables for guitar/bass/keyboards, balanced line/mic XLR cables, AES/EBU and S/PDIF digital cables both with customized Neutrik connectors, BNC clocking leads, AC power cables, and multi-core 8-channel snakes with DB25 to XLR connectors.

Check: www.audioplusservices.com for the models you need. These super premium cables range from $80 to $240 and microphone cables range from $90 to $370.







---
Web Page design is copyright © 2010 by Barry Rudolph