Westone 3 True-Fit Earphones
Westone Music Products' Westone 3 is called the world's first true three-way earphone specifically designed for personal listening. They use three separate balanced armature drivers to deliver superior sound. Westone is no beginner when it comes to earphone technology as they have been doing custom models since 1959 and earphones/monitors since the mid '90's. Artists ranging from Third Day and Shinedown to Flyleaf and Nine Inch Nails use their earphones professionally on stage.

I received a pair of Westone 3s and immediately tried them in both my iPhone and at my Tones 4 $ Studios in my pro headphone cue system. These earphones are meant for consumer use--with an iPhone, iPod or any personal stereo player--but plugged into either my cue system (100-watt amp) or my Aphex HeadPod Personal Headphone Amp, they sounded great with a good dose of mid-range frequencies necessary for singing or playing an instrument.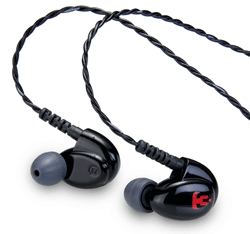 I found them easy and comfortable to wear for long hours and they are stylish too. Mine are all black with a tiny red logo on each driver. The connecting cords are all-black twisted wire that doesn't seem to get caught on anything or twisted into knots. These are all pet peeves for me when it comes to personal electronic products for sure!
They come with a whole bag of ten different styles of detachable tips--a "fit kit" for fitting anybody's ear canals. I chose the triple flange tips and they gave me a good seal to block out external, unwanted sounds plus a better bass response.
They also come with a zippered carrying pouch that has a carbineer clip for attaching to your belt, a 1/8 to 1/4-inch plug adapter, and an optional inline volume control--you can plug it in or not if you like to control volume on the iPod itself.
I have to say that the Westone 3s are a good investment in your listening enjoyment at a street price of $399. You can upgrade them with custom-fit earpieces when you get them and, after you switch over to the good stuff, you'll wonder how you tolerated those crappy-sounding ear buds you've been using all this time!! Highly recommended! For more information, please go to westone.com/personallistening. Call toll-free 1-800-525-5071.
---
Web Page design is copyright © 2010 by Barry Rudolph