Westone UM2 Dual-Driver Earphones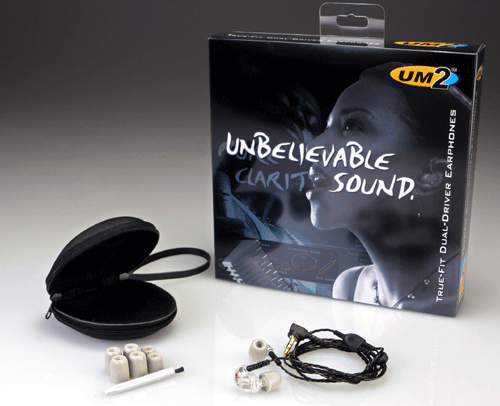 Westone's UM2 Universal Monitor is a pair of affordable dual-driver earphone monitors specifically designed for musicians. Built to the highest professional standards they use the same balanced armature and passive crossover technology as Westone's custom ES2 in-ear monitors. They have that high-end Westone sound quality but at a more affordable price.

They come with comfortable Comply™ foam tips to allow for extended use without fatigue and when properly sealed into your ear canal, they provide up to 25 dB of ambient noise reduction making them the perfect choice for on-stage performing. They also come with a durable 50-inch stereo "Y" cord and standard 3.5mm stereo jack to fit any in-ear monitor wireless receiver or even your iPod or iPhone.

I received a pair of clear UM2s for review but the also come in a cool jet-black color. I immediately check them out using the headphone cue system at my Tones 4 $ Studios. They have a 20Hz to 18kHz response curve and sound great with excellent low frequencies for a warm sound even at high volume levels.

And loud they go with 119dB/mW sensitivity but they never sounded harsh even on my 100-watt headphone system or my smaller Aphex HeadPod amplifier. I found them super comfortable and almost as "invisible" feeling as my Westone custom molded pair. The clear models I received are visually stealthy as well--no one might know I'm wearing them except for the grin on my face as I enjoy their exemplar sound.

Other tech details: impedance is 27 ohms and they come with a soft padded pouch, replaceable Comply foam tips, and wax loop for cleaning. They sell for $279 MSRP and you can also get them with a removable cable option for $399 MSRP. You can learn more about them and the whole universe of Westone's music products at www.westonemusicproducts.com.







---
Web Page design is copyright © 2010 by Barry Rudolph