Yamaha Rock Tour Drum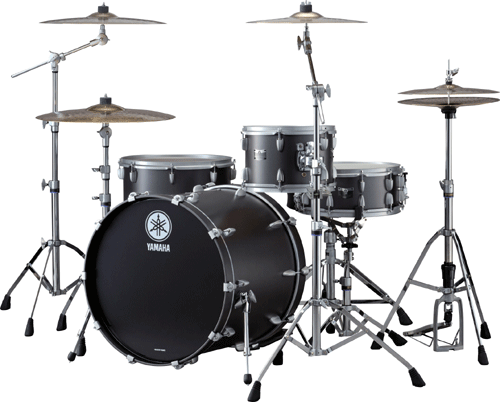 The new Rock Tour drum sets are a whole new look for Yamaha but no worries, not like a new "budget" line some manufacturers put out, the quality is still there. These kits have an edgier look and sound than previous Yamaha drums kits.

Big Leaf Mahogany is used for the shells that come in sizes that are perfect for Rock drummers who like the pro features of Yamaha's high-end kits. Yamaha's staggered diagonal seam Air Seal System construction ensures that each shell is perfectly round and eliminates gaps in the bearing edges.

Originally developed for Yamaha's flagship acoustic PHX series acoustic drum sets, textured ash finishes are combined with satin nickel hardware for a tougher look and more aggressive sound that turns out to be "microphone friendly." I always smile when a Yamaha kit comes into the studio for a tracking session--I know I will not have any problems getting a great drum sound.

Rock Tour Drum Sets are ready to go now. They have a musical tone, without sacrificing the projection needed to cut through a wall of stupid-loud guitars. For more information, check www.yamahadrums.com.







---
Web Page design is copyright © 2010 by Barry Rudolph