Zildjian Gen-16 Digital Vault Z-Pack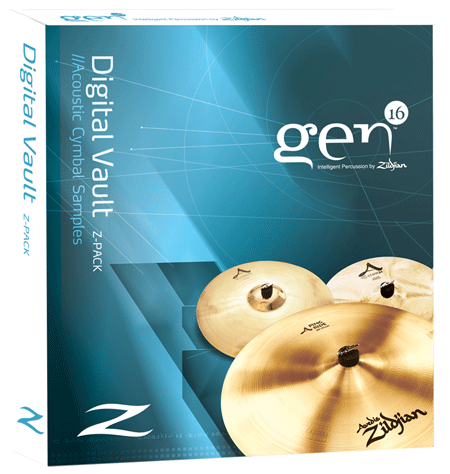 Who better to offer high-resolution samples of their master reference cymbals than legendary cymbal-maker Zildjian? The Digital Vault series are limited editions of sample collections made from handpicked cymbals pulled from the company's vault. Percussion sampling guru John Emrich recorded all the cymbal samples.

The Gen16 Digital Vault series comes with a custom version of FXpansion's BFD Eco drum playback/production environment. Like BFD1 and BFD2, the BFD Eco engine allows users to change pitch, mix or add effects to these samples for the creation of even more unique sounds. For my evaluation, I used BFD2 running standalone or within Pro Tools HD.

The DV Z-Pack 2-DVD disc set has three sets of hi-hats, four crashes and splashes, and seven ride/crashes cymbal samples--14 total cymbals sampled in the appropriate stick, brushes, and mallets or rods versions. I like all the cymbals in this collection--all are first-rate sounding--there are no dogs in this collection taking up space. None of them are available in other BFD collections or anywhere else.

I especially liked the 14-inch Custom Mastersound hi-hat set for cutting through a mix of loud guitar "wire-choirs" while the tight little 10-inch A Custom Splash worked well for a spicy sonic accent. There is the broad sounding 21-inch A Custom Rezo Ride that has a good stick sound yet still sinks well into the drum mix. I used the 16-inch A Custom Crash for its nice and loud "stick" near the bell while the 20-inch A Custom Crash is thicker and provides more ring out of its distinctive sound.

Zildjian's Gen16 Digital Vault is a refreshing new collection of excellent cymbals for BFD2 or BFD Eco that are all recorded in a very present and pristine manner and ready to take any mix effects. They sell for $249 MSRP. Get more information at: www.gen-16firstlook.com.







---
Web Page design is copyright © 2010 by Barry Rudolph