Samson/Zoom Q3 Handy Video Recorder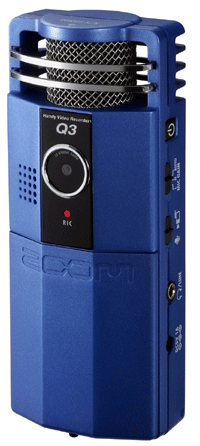 The Front Of The Zoom Q3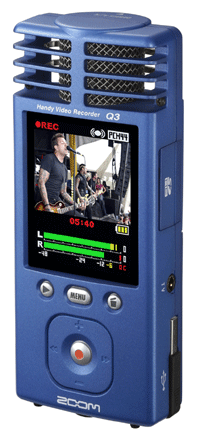 The Back Of The Zoom Q3

The Zoom Q3 is THE handheld video camera for musicians, bands or just anyone that wants to fully record a musical event in both video and clear stereo sound. If you are planning to upload your band's video to YouTube--even though they compress HD video, they now allow files with stereo audio at 44.1 kHz CD quality. So for YouTube, right now stereo sound is more important than HD video because you might not see any difference but you'll hear a difference with this unit's superior sound quality!

I've been using the Q3 to make video product reviews and shoot home movies of my family etc. It's a solidly built device (I accidentally dropped it and no damage at all) that takes great movies at 640 X 480 resolution and 30 frames per second. I like that it records on SD Media cards instead of internal memory (like the Flip and others) because I just carry a couple more SD cards if an when I run out of space--I don't have to hijack the nearest computer to download before I can shoot more. Powered by two AA batteries, the Q3 will run for up to two hours--you can record up to 45-minutes of video on the included 2GB SD card. Carry a few more batteries and get up to 16 hours on a single 32GB SD card!

I also love the brilliant 2.4-inch 320 x 240 resolution LCD that displays stereo audio levels, the state of the battery, and time elapsed. Another winner is the built-in USB jack and cable although I wish it were about an inch longer but at least I don't have to carry an easy-to-lose separate USB cable!

Other cool things: pro X/Y stereo condenser mics, 44.1/48kHz and 16/24-bit PCM or up to 320kbps MP3 recording with video, or up to 96kHz at 16 or 24-bit audio only recording, the latest MPEG-4 SP format, fixed focus with 2X digital zoom, NTSC or PAL TV output jack, headphone/line output jack and HandyShare editing and YouTube uploading software included.

The Zoom Q3 Handy Video Recorder sells for $199 MSRP and for much more check out: www.zoom.co.jp.







---
Web Page design is copyright © 2010 by Barry Rudolph