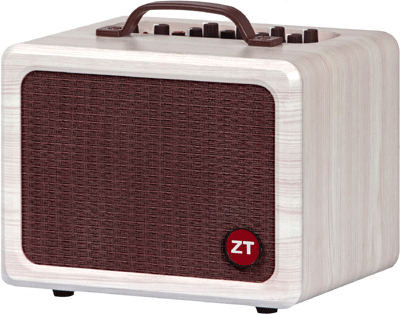 The Lunchbox Acoustic LBA1 is the newest model from Berkeley CA, ZT Amplifiers. Adopting the same approach to innovative guitar amp design as the original Lunchbox, the Acoustic was conceived for two main purposes: the amplification of any acoustic guitar equipped with or without a pickup and as a dual purpose amplifier for amplifying both acoustic guitar and a vocalist's live microphone. For the solo acoustic artist, this is the smallest and most powerful all-in-one rig I know of.
The Acoustic has the original Lunchbox's 6.5-inch speaker, measures a diminutive 7.5 x 9.8 x 7.7-inches and weighs 12-pounds. It's made out of MDF (that's high density fiber board) and puts out over 200-watts that translates into a 130dB/SPL sound level 1 meter from the speaker.
The Acoustic has two input channels: the Instrument for the acoustic guitar's pickup and the Microphone channel for the vocalist. They both have separate Gain, Bass, Treble and plate-style Reverb controls plus a common Master Volume control for setting the final volume. The Microphone channel has a rear-mounted XLR and a paralleled 1/4-inch jack with phantom powering for condenser microphones.
Also new to this amp are the effects send/return jacks and an Aux input 1/8-inch mini-jack for playing backing music tracks along with your guitar. Other features are: variable headphone/DI output, external speaker out with switch, on/off and AC mains voltage selector, an Anti-Clip Limiter and an Anti-Feedback one-octave notch filter with a choice of three frequencies: 500Hz, 1kHz and 2kHz.
My guitar player connected his Washburn EA-9 acoustic to the Acoustic and I also miked the guitar with the KRK ERGO omni-directional measurement mic also plugged into the Acoustic. Having the microphone to mix with the direct fattens up the sound in a dramatic acoustical way. The balance of the direct to mic's sound is everything about the final sound quality and I'm still experimenting with different mics and positions that work the best. I recorded the Lunchbox Acoustic with a Shure Beta 27 condenser, the direct signal using a direct box, and the guitar itself with a Mojave MA101-FET condenser. With three tracks of acoustic guitar, I had a huge range of mixing options within Pro Tools.
For live work, the feedback suppression system works well although there is slight change in tone but you'll attain louder volumes using it. Certainly good for quieter solo gigs where you need stage monitoring and sound level reinforcement, the Lunchbox Acoustic is just ticket. It's perfect for Pop, Country and Rock players of all styles and sells for $549 MSRP and for more information check www.ztamplifiers.com.
---
Web Page design is copyright © 2010 by Barry Rudolph