65amps Empire Guitar Amp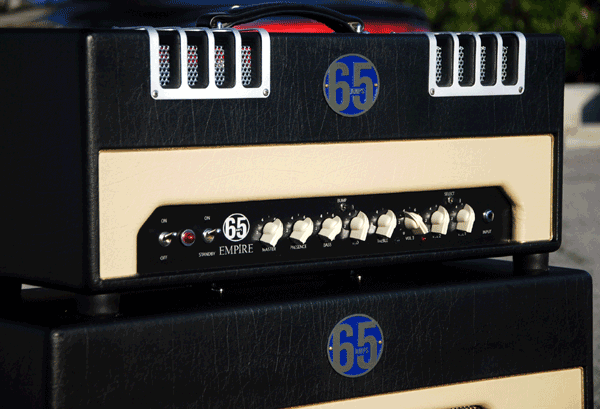 The 65amps Empire is a 22-watt amp head designed to produce the sound of several different vintage British amps that use EL34 power tubes. The Empire delivers three distinct sounds or 'voices' of Brit amps that appeared from the mid '60s up through the '90s in a non-intuitive way: the amp uses two 6V6 power tubes and two 12AX7s in the pre-amp. An as usual, the devil is in the details.
For over 20 years, 65amps owners Peter Stroud and Dan Boul have worked modifying small American amps (most have 6V6s) to make them sound like old EL34-based English amps. They achieve this by way unique circuit design and careful component/transformer choices and NOT by simply throwing in a copy of an old amp's tone stack circuit.
Selectable by the front panel switch or a remote foot pedal, the three sounds are: an early '60s Pete Townsend clean tone; the second is a fat and dirty sound you would have heard used between the years '68 to '72, and the third is a high-gain '80s tone. But of course you can use the Bass, Mid and Treble controls plus the unique 65amps Bump switch to take the finished sound anywhere you like for playing crunchy rhythms or your favorite soaring and heroic leads lines.
I liked that there are three Volume controls to preset the level of each voice--very useful when switching back and forth between them in live settings. The Empire is also equipped with 65amps' proprietary Master Voltage feature to deliver classic British sounds at any volume level for concert stage gigs to bedroom practicing back home.
The 65amps Empire sells for $2,900 MSRP and for more information go to: www.65amps.com.
---
Web Page design is copyright © 2011 by Barry Rudolph