Audio Impressions 70 DVZ™ Strings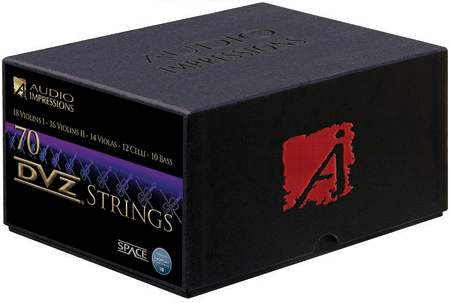 Previously reviewed in these pages a while back, there is so much new in 70 DVZ Strings, that it warrants a whole new look. The easy-to-use single page GUI now controls everything in real time and that is a lot! There are 70 strings divided into 18 1st violins, 16 2nd violins, 14 violas, 12 celli, and 10 basses. All samples were master recorded at 192kHz in London at Lansdowne studios using Stradivari and Guarneri instruments and each string section gets a single dedicated MIDI track (5 total). The program is shipped with 48kHz/24-bit samples.

Immediately scalable from a solo instrument or small string quartet, all the way up to a 70 piece string orchestra, the Space feature allows each string section to be placed anywhere in a virtual room within your DAW. Designed as a performance instrument, you can change sound "on-the-fly" by controlling the GUI as you play and get infinitely different sounds through any combination of touch screen, key switch, MIDI CCs, and key velocity controls. There is also real-time divisi for splitting up notes between sections and amongst players in each section as more notes are added. This is way better than just doubling up the same samples. The patented software automatically allocates the notes to the proper players in real time exactly as it would occur with a real string orchestra.

The DVZ Core Engine runs within Kontakt player (included) but you never work directly in Kontakt's GUI. DVZ controls and streams 70 DVZ Strings' 32 independent string libraries simultaneously on one sampler computer platform with a single GUI. Running 70 DVZ Strings on its own dedicated computer ensures there's always ample CPU power no matter how many notes you play.

There is so much more at www.audioimpressions.com.







---
Web Page design is copyright © 2011 by Barry Rudolph