ADK Custom Shop TC 12-Au Tube Condenser Microphone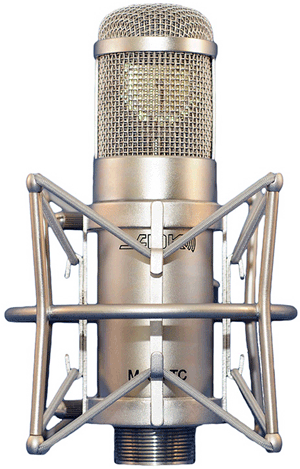 The ADK TC 12-Au tube condenser mic builds on the ADK Model TC condenser microphone but with a GK-12S capsule, the same capsule used in the ADK Vienna 12-Au model. This capsule is an Aussie-Belgian-American design with a six-micron thick Mylar-backed diaphragm that is pre-aged and vapor-deposited with 99.999% pure gold.
A high-performance 12AX7 (JJ ECC803S) tube is used in the 12-Au and is one reason (along with a capsule that produces 3dB more output) the output is about 20-25dB hotter than my studio standard condenser mic. As compared to that other mic, the ADK 12-Au is clearer in the high frequencies with a touch more sibilance but not to the point of being a problem for most singers.
The microphone comes complete with an attractive aluminum flight case, 115v/230v power supply, a set of high-quality, US-made multi-pin interconnection and XLR mic cables by Accusound (RoHs compliant), both a minimal T-Ring mount and a new T-Super basket shock mount, and a metal pop-filter with goose-neck and c-clamp. Other specs are: sensitivity is 20mV/Pa; 20Hz to 20kHz frequency response, A-weighted noise is 15dB-A, dynamic range is 110dB, and weight is 550grams.
I found the ADK TC-12Au to be a good choice for a room mic, recording somber-sounding instruments, vocalists that would require a brighter sound and/or more sensitivity for quieter singing, and any orchestral string instruments such as violins, violas or celli.
The ADK TC 12-Au sells for $1,549 MSRP and for more information, visit: www.adkmic.com/catalog/customshop/TC12-Au.php.
---
Web Page design is copyright © 2011 by Barry Rudolph