ADK Custom Shop TC 67-Au Tube Condenser Mic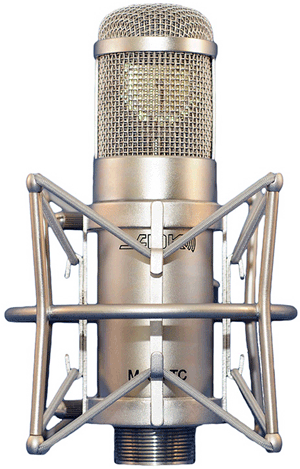 From the ADK Custom Shop comes the new ADK TC 67-Au, an upgraded version of the ADK TC Class-A fixed cardioid tube condenser microphone. It has their GK-67S capsule--the same capsule used in the Hamburg 67-Au FET microphone. This capsule is an Aussie-Belgian-American design with a six-micron thick Mylar-backed diaphragm that is pre-aged and vapor-deposited with 99.999% pure gold.
This mic's head amp uses a JJ ECC803S high-performance 12AX7 tube and is one reason (along with a capsule that produces 3dB more output) the output is about 20-25dB hotter than my trusty tube condenser mic stalwart. I also immediately heard more presence--a kind of "forward" sound not in my other mics. Inside construction is good with the tube shock-mounted on an socket assembly that unplugs easily. I wouldn't mind having some different tubes ready so I could swap out depending on my recording application but the mic sounds fine as it comes.
The microphone comes complete with an attractive aluminum flight case, 115v/230v power supply, a set of high-quality, US-made multi-pin interconnection and XLR mic cables by Accusound (RoHs compliant), both a minimal T-Ring mount and a new T-Super basket shock mount, and a metal pop-filter with goose-neck and c-clamp. Other specs are: sensitivity is 20mV/Pa; 20Hz to 20kHz frequency response, A-weighted noise is 15dB-A, dynamic range is 110dB, and weight is 550grams.
I found the ADK TC 67-Au excellent for all types of vocals especially for quieter vocalists where the mic's extra output level comes in handy because you can get full recording levels without relying so much on your mic pre-amp section which can add noise and distortion at the higher settings usually required. This extra gain is also ideal for quiet instruments such as acoustic gut string guitars, flutes, and harps or for any distant miking applications.
The ADK TC 67-Au sells for $1,659 MSRP and for more information, visit: www.adkmic.com/catalog/customshop/TC67-Au.php.
---
Web Page design is copyright © 2011 by Barry Rudolph