Alan Parsons' Art & Science of Sound Recording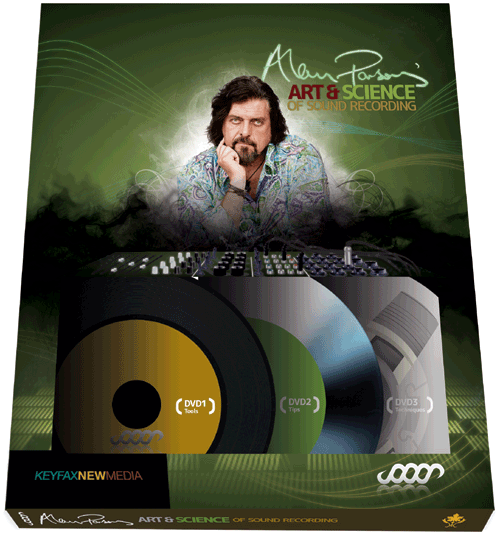 Big kudos go to veteran engineer/producer and recording artist Alan Parsons for all the 'love' he put into his monumental opus, Art & Science of Sound Recording. This three DVD set runs just over 10-hours long and I enjoyed every second it!
Written and produced by Parsons and Julian Colbeck for KEYFAX NewMedia, it is narrated by actor Billy Bob Thornton and there are notable interviews with many famous artists, musicians, and engineer/producers artists like Erykah Badu, Michael MacDonald, Niko Bolas, John Shanks, Patrick Leonard, Simon Rhodes, Allen Sides, Jack Joseph Puig and more too numerous to list here.
What first stuck me about this educational series was the infotainment style of presentation and the overall relaxed atmosphere fostered by Parsons. All the interviewees seem totally at ease and honest during their on-camera conferences with Parsons. So at ease it seems that they sometimes readily divulge a few of their coveted secrets. Secondly these DVDs are expertly produced using widescreen NTSC video, pro-looking lighting, well-written and rehearsed scripts, tutorial animations to explain technical details, and numerous helpful on-screen captions are used to decrypt the blizzard of acronyms and buzz words common in the recording business.
In addition, there are countless references to www.artandsciencesofsound.com where more detailed information on most subjects is located and occasionally to Parsons' Sound Check 2 Test CD for reference test tones used in measurement and alignment procedures outlined.
While the tradecraft of recording engineering has certain guiding technical principles and rules all engineers must know, Parsons offers that the 'art' lies in how, when and why to adhere or diverge from them. This philosophy, at times, counter-balances the more rigid and judgmental opinions and pontifications offered by the some of the other producer/engineer pros he interviews.
The time (over two years) and effort in organizing and writing this series is evident in that each of the three DVDs are standalone presentations that can be (re) watched in any sequence. They each utilizing a similar presentation schema: description and definition, history and current state of the art, Parsons personal experiences, and the interview subject(s) viewpoints.
For example DVD-1 has a brilliant treatise on microphones that starts with the what they are and how the work; a history of microphone invention; on to mic polar patterns and how they are used in recording or for live sound; and it finishes with an interview with mic-maven John McBride, owner of Blackbird Studios in Nashville.
DVD-2 covers mostly signal processing: equalization, compression, noise gates, reverb, and delay. Here, Parsons throws in a few of gem processing tricks he used when engineering Pink Floyd's seminal hit album Dark Side of The Moon. DVD-2 culminates in a band tracking session with famous veteran pro musicians: Simon Phillips, Nathan East, Tim Pierce, and Rami Jaffee. Rather than focus on strictly technical recording aspects too closely, the band members and parsons opined on the pros and cons of tracking together as a band or separately and alone by way of overdubbing or, in the DVD's next section, via the Internet.
DVD-3 is a further dissection of the tracking process with separate sections on recording drums featuring drummer/engineer Simon Phillps and engineer Sylvia Massy, keyboards with Rami Jaffee and Michael MacDonald, bass recording features Nathan East and electric bass guitar pioneer Carol Kaye, and guitar--one of my most favorite and revealing sections--features guitarist Tim Pierce's process of getting sounds in his own studio and Alan Parsons recalling his experiences recording George Harrison and David Gilmour at Abbey Road Studios in London, England.
It is impossible to detail all of Alan Parsons' Art & Science of Sound Recording DVDs here but know this is a series aimed at viewers with an intermediate level of understanding of recording engineering and music production. For me, as a recording engineer, it filled in many gaps in knowledge and I especially appreciate the increase visibility and notoriety a DVD set like Alan Parsons' Art & Science of Sound Recording brings to the engineer/producer profession.
Alan Parsons' Art & Science of Sound Recording is available for $149 MSRP and includes an 8-page booklet and access to source materials at www.artandsciencesofsound.com.




Alan Parsons' Art & Science of Sound Recording
---
Web Page design is copyright © 2011 by Barry Rudolph