Audio-Technica AT2022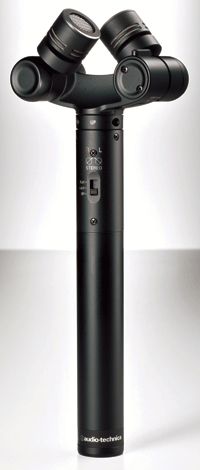 The AT2022 is a X/Y dual-element stereo condenser microphone. For image-perfect stereo recordings every time, the AT2022 has two cardioid condenser capsules arranged in a locked X/Y configuration but they pivot to allow for 90-degree (narrow) or 120-degree (wide) stereo sound pickup. Designed for field recording, the mic and capsules fold flat for storage and transportation.
The AT2022 mic has a single XLR connector that provides unbalanced signals from the two capsules down an included a 0.5 m cable. The cable terminates into a 1/8-inch (3.5 mm) mini jack connector that will mate to most portable recording systems. The microphone requires an internal 1.5V AA battery for operation.
There is a switchable 80Hz high-pass filter on the mic to roll-off excessive rumble from street or A/C noise or use the flat position when in quieter locations. The included AT8405a stand clamp works on any microphone stand and a fuzzy windscreen, battery and soft protective pouch are also included in the kit.
Audio-Technica's AT2022 X/Y Stereo Condenser Microphone sells for $439 MSRP. For more information, go to: www.audio-technica.com.
---
Web Page design is copyright © 2011 by Barry Rudolph