Avid Technology's Pro Tools 9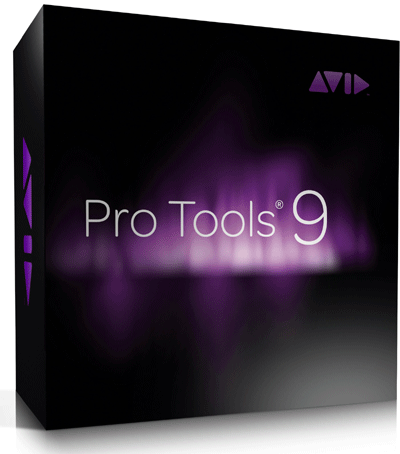 As a user of Pro Tools all the way back in the day when it was just a stereo audio editor called SoundTools, I know that Pro Tools 9 firmly establishes, more than ever, the bright future for this popular DAW--already the de facto standard in music production for records, film and television.
Pro Tools 9 runs only on Mac's Snow Leopard or Win 7 on PCs and comes as a single, unified software installer with all versions ready for authorization via iLok. Pro Tools 9 and Pro Tools|HD Native are host-based versions with HD Native requiring an internal single PCIe card to connect to one of Avid's new hardware interface units. As in previous Pro Tools|HD systems, Pro Tools|HD 9 is a hybrid system that uses host-based processing but also takes advantage of the additional DSP power of one or more installed Accel DSP card(s). It also requires one or more of Avid's hardware interfaces. Pro Tools|HD Native should be thought of as just like a Pro Tools|HD system but without the onboard DSP chips to run TDM plug-ins.
There are two very significant and irresistible features that span across all versions of Pro Tools 9. Formerly exclusive to Pro Tools|HD, all versions now have automatic delay compensation for the better alignment and phase accuracy of tracks. You no longer have to manually adjust tracks on the time line to compensate for latency caused by plug-ins or hardware interfaces. The HD's Playback Engine dialog is now available on all versions to show and set the Delay Compensation Engine.
The second undeniably great new feature is that all versions are hardware interface agnostic--you can use nearly any third-party interface including ASIO, Core Audio or the built-in audio capabilities of a Mac or PC under the Pro Tools Aggregate I/O option. Simply choose in the Playback Engine menu your choice of I/O in your Current Engine and go.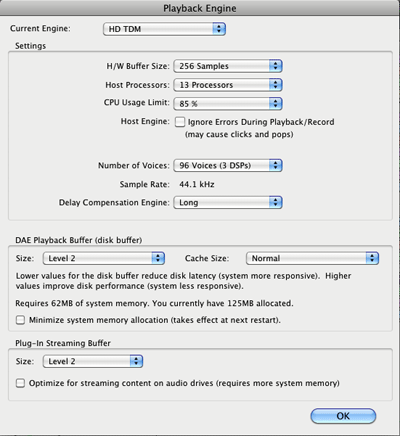 Pro Tools|HD 9's Playback Engine Dialog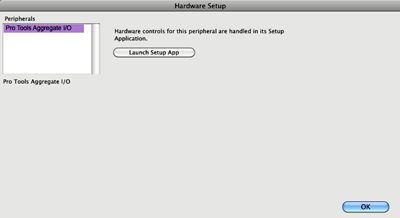 Pro Tools 9's Aggregate Engine Hardware Setup

Pro Tools 9 sessions are much more portable than previously. You can record a song in Pro Tools HD|9 at a big tracking studio and then load it into your laptop for further editing, processing or mixing. Just move your iLok dongle to the laptop and continue working using host-based Pro Tools 9. All your Native plugs will show up (assuming they are installed in that computer) and you can use a M-Box interface, an ASIO unit, Core Audio, or the built-in soundcard of your laptop. I would just plug my Ultimate Ears in-ear monitors into the Mac Book Pro's headphone jack and get to work.

With Avid's recent acquisition of Euphonix, there is now full EUCON™ integration using open Ethernet protocol for easily adding Avid's Artist Series and Pro Series audio consoles and controllers to your system. This is NOT just "dressed up" HUI functionality but a responsive and deeply nuanced control of Pro Tools 9 software and plug-ins similar to what's possible on Avid's ICON or VENUE consoles.

There are substantial boosts in performance in Pro Tools 9 that become crucial for handling music productions with large track and voice counts. There are now 96 mono or stereo voices possible in Pro Tools 9 host-based (2X as much as before); 192 voices and a maximum of 512 tracks for Pro Tools HD|9 systems; plus 256 internal busses (2X), 64 instrument tracks (2X) and 160 aux tracks. Multi-track Beat Detective™ module, DigiBase™ Pro file management tool, and a full Import Session Data dialog window are all now standard.

Most of the previous paid upgrade additions to Pro Tools are included. OMF/AAF/MXF interchange for exchanging files between other media applications is built-in and the codec for MP3 export is not a paid extra any more. (Hooray for small thoughtful details like this one). Time Code Ruler for syncing audio-to-video is included; an updated 7.1 surround panner (With 7.1 panning option in HD|9 and also in other versions if you add the Production Toolkit 2 option); and all versions come with variable stereo pan depth.

I recently upgraded to a new MacTel 8-core Westmere Mac computer and, compared to a lot of the installations for other software products and all my plug-ins (I have somewhere near 600), the Pro Tools HD|9 installation went like a dream.

I have an HD Accel 3 set of cards and a single HD 192 interface and they all worked perfectly the first time out. This rig is all new to me but so far, I find the new software much more responsive, load and quit faster, instantiate plug-ins faster and access tracks and change modes instantly. Compared to my old rig--a PPC Quadcore running ver PT 7.4--I would estimate that this new system using Snow Leopard and the same three cards is about four to five times more powerful.

A full license of Pro Tools 9 software costs $599MSRP with upgrades and cross grades paths for owners of all Pro Tools software products starting at $249. For more information on features and availability, visit: www.avid.com.







---
Web Page design is copyright © 2011 by Barry Rudolph