Backbeat Books Flying V, Explorer, Firebird by Tony Bacon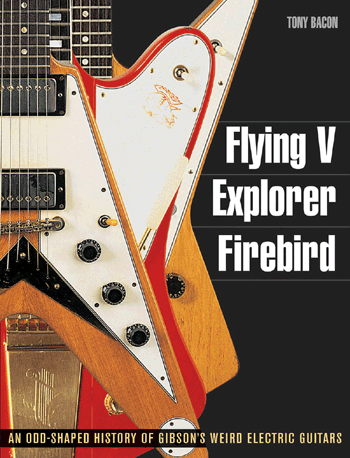 Author Tony Bacon makes what might, at first, seem arcane into riveting reading in his Flying V, Explorer, Firebird ($24.99) book from BackBeat Books. Bacon, who explains how the instrument's commercial failure eventually led to inspiring a new generation of guitar-makers and players and then regales the checkered history of these three, seemingly impractical and strange-looking guitars. Nowadays their odd shapes have become the "look" for modern metal guitar--players with the original guitars now rare collectables. Only 81 Flying Vs were made in 1958, 17 in 1959 and only 19 Explorers were made in 1958, with just 3 produced in 1959.
As I learned, the design of the 1958 Flying V and Explorer electrics were based on the "panic" reaction and the 'chagrin' Gibson felt when the Fender Stratocaster first appeared--suddenly guitars no longer looked like guitars. Add to that those times this country's nascent space race fever, the '50s and '60s modernistic feelings expressed in the design of everyday common objects and the 'futuristic' guitar was born.
Flying V, Explorer, Firebird tells of those early, oddball instruments and goes on to describe Gibson's later attempts at further reinvention of more nonstandard designs with the introduction of the Firebird in the early '60s. Even though most of these guitars were flops, they influenced the designs of guitar-makers such as Hamer, Jackson, Dean, Ibanez, and BC Rich. The love of quirky-looking guitars piqued interest and inspired many famous guitarists such as Zakk Wylde, Edge, and Rick Nielsen and many more.
The book features interviews with Billy Gibbons, Michael Schenker, K.K. Downing, Johnny Winter and more who tell of their special relationship with these instruments. The book also contains specially commissioned images of every key model, a vast collection of guitar memorabilia, and a gallery of leading guitarists photographed in action with their instruments.
With complete index and source reference with dates and serials, Flying V, Explorer, Firebird by Tony Bacon sells for $24.95 and is available from BackBeat Books at 866-222-5232 or www.backbeatbooks.com.




Flying V, Explorer, Firebird - History of Gibson's Weird Electric Guitars
---
Web Page design is copyright © 2011 by Barry Rudolph