Blue Microphones' Reactor Microphone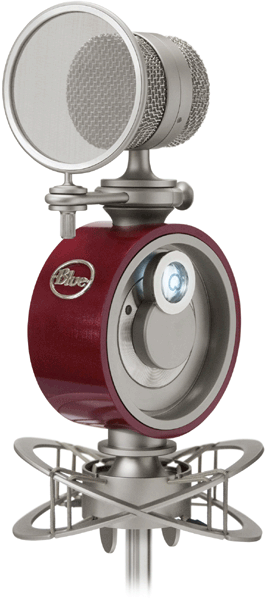 Reactor is a multi-pattern, large diaphragm condenser microphone that doesn't look the part at all! Whimsical and iconic-looking at the same time, Reactor is NOT a "form over function" toy--it is a great-sounding, professional studio tool that combines Blue's proprietary Class-A pre-amp circuitry, an innovative pattern selection method, and a swiveling capsule head design based on Blue's B6 capsule.
By virtue of a specially designed mechanism, the mic's capsule head is movable anywhere in a 90-degree arc staying precisely aimed at the sound source at all times while the mic's massive body remains stable and in place. The mic has cardioid, omni-directional and bi-directional polar patterns and is suited for Mid/Side or X-Y stereo miking techniques when used with a second microphone.
A unique feature I've never seen before is the backlit pattern indicator that is viewable through a magnifying monocle eyeglass window. This window is part of a heavy-duty pattern selector rotary switch that operates like a fail-safe locking mechanism you'd find in a missile silo. Changing patterns is easy, unambiguous and trouble-free. It's a better system than a lot of mics that have very small and delicate pattern switches that are easily damaged and/or broken. Like all multi-pattern condenser mics, you must mute the mic's audio when switching patterns, or else a huge thump will be heard.
Here at my Tones 4 $ Studios, I tried Reactor first on a lead vocal recording. Instead of mounting the mic normally straight up using a conventional mic stand, I suspended the mic inverted from a large boom stand. Mounted straight up, the included shock mount elastic suspension system is insufficient to handle such a heavy microphone without wobbling precariously. Although the "Blue" logo is now flipped while suspended upside down, the mic is more solid and works just the same--great.
The sound of this mic is first class. I liked the fat-sounding proximity effect in cardioid mode when my singer got in close to it. It has a lot of output level--I used just 35dB of gain from my RTZ Dual Channel Microphone Pre-amp and got hot recording levels to Pro Tools 9 HD for medium to quiet singing. My vocalist was about 3 to 8-inches from it.
At a second studio, I tried all three polar patterns while recording acoustic guitars. Cardioid at over the 12th fret sounded, as it should, well balanced and not too boomy. The Figure of Eight pattern is good for two guitar players facing each other and blending their sound together with Reactor in the middle. Since the mic's body stays still, it is easy for you (or your guitarist) to aim the capsule head without changing the mic's distance and without a subsequent change in recording level.
In the omni-directional pattern mode, there is an even consistency of sound quality and level no matter where the sound source happens to be located around the mic. I could rotate the capsule keeping the source the same distance and the level and sound quality did not change. Omni also good for recording acoustic guitars--the mic distance and position is less critical, there is no proximity effect, and more of the recording space is incorporated into the sound. In addition, there will less chance of low frequency build up when Reactor is placed close to the guitar's sound hole, as there is no switchable high-pass filter.
Reactor's "large and in charge" form factor precludes it from being useful for the close in miking of drums--such as tight in on a snare drum. If Blue offered an adjustable rigid mount, I'd get it--it would streamline Reactor for more uses such as under the lid and over the hammers of a grand piano any many other tight places in the studio and on stage.
Reactor comes with a high-quality metal carrying case along with a custom-designed shock mount and detachable pop filter held in place by a clever magnetic clip. It sells for $499 MSRP and you shouldn't wait to get exposed to this great sounding mic and definite conversation starter. Any singer will want to sing their best vocals into this wonder. For more information, visit www.bluemic.com/reactor.
---
Web Page design is copyright © 2011 by Barry Rudolph