CruzTOOLS GrooveTech™ Jack and Pot Wrench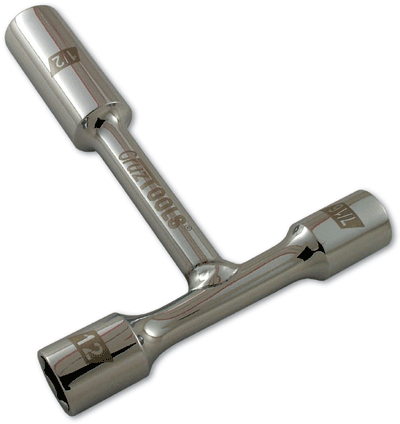 The latest addition to the CruzTOOLS line of tools for motorcycles and music gear is the GrooveTech™ Jack and Pot Wrench. This T-shaped tool is a three-way socket wrench with 1/2 and 7/16-inch and 12-mm sizes. All three sizes feature thin-wall sockets that fit into the tightest of places such as the nut on the recessed output jack of a Fender Strat--a particularly worrisome problem to fix when it eventually becomes loose. Regular wrenches or worst yet, pliers, are all wrong for the job and there is risk that those tools can slip off the nut and scratch the guitar's finish.

It is no less an easier process to tighten a loose nut on a volume or tone control pot since their shafts can be up to one-inch long. That job will require a socket deep enough to fully contact the nut. This new tool covers all these issues easily and correctly.

The GrooveTech Jack and Pot Wrench is made from forged steel to precision tolerances and then chromed. With the socket ends smoothed over for use on delicate surfaces, each is laser imprinted for easy identification.

Measuring slightly over four inches, the GrooveTech wrench will easily fit into instrument cases and gig bags. Suggested retail is $18.95. Check: www.cruztools.com.







---
Web Page design is copyright © 2011 by Barry Rudolph