DVK Technologies Stomp Boxes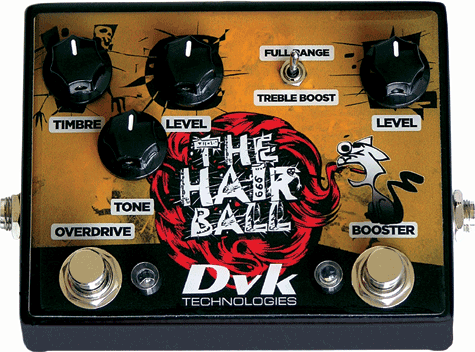 From Australia comes DVK Technologies with a line of new pedals (four models so far) with a decidedly different approach to both their sound and the unique combination of two effects all in one standard size stomp box. The first one of the four we tried was the Hairball, a dual pedal with both overdrive and boost modes.
Oliver Leiber and I fired up the Hairball pedal using a vintage Gibson Explorer guitar and a vintage brown face Fender Deluxe amp. The Boost (up to 28dB of clean boost) half of this pedal has a switch to change it from a treble booster to full range mode. We found this boost section an extremely valuable tool to dial in just the right sound for both leads and chugging rhythms. The treble boost position adds a nicely carved upper mid-range projection.
The design of the Overdrive half of this pedal is based on the good 'old 'TS' circuit and also has good tone stack design for precisely "slotting in" your guitar sound into the track. Besides a Level control, there are both Timbre (which controls the amount of distortion) and Tone controls we found worked well together to create just about any overdrive sound. When both Overdrive and Boost modes are switched in (a separate stomp button for each) you'll be driving your amp's pre-amp into previously unknown areas.
The other DVK pedals available are: The Mrs., a compressor/booster combo, GoldTop is a fuzz tone combined with a rotary speaker vibe effect, and SilverTop is an overdrive also paired with a vibe effect. All the pedals sell for $289 MAP and none use batteries but require a standard nine-volt power supply that is not included.
Video demos of all four models are available at www.dvktech.com and on YouTube on the burgerman666 channel. MV Pro Audio distributes DVK products in North America and a list of dealers can be found at www.mvproaudio.com/dealers.html.
---
Web Page design is copyright © 2011 by Barry Rudolph