EastWest Quantum Leap Spaces Convolution Reverb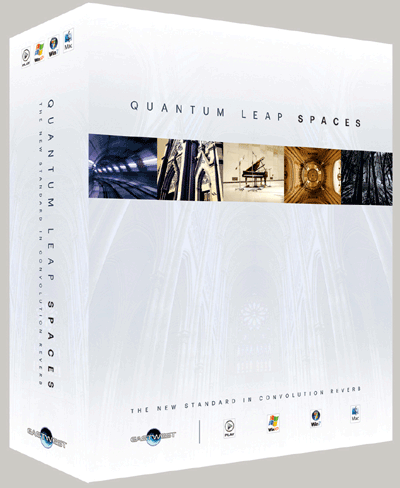 Quantum Leap Spaces is a new, 24-bit true stereo convolution reverb developed by Nick Phoenix for EastWest and it includes an impulse collection amassed from all over the world during the last seven years.
Impulses taken from some of the finest acoustical environments make up the large preset collection in this reverb. There are concert halls like EastWest/Quantum Leap's Symphonic Orchestra Hall, churches, cathedrals, caverns, soundstages, forests, a swimming hall, parking garages, water tanks, a tunnel, vintage plates, custom digital reverb presets and recording studios such as the famed EastWest Studios in Hollywood, CA. I'm only starting to get to know Spaces and so far, the EW studio rooms are some of my favorite presets in the collection.
I tested Spaces in my Pro Tools 9 HD 3 rig and it installed and authorized trouble free and the GUI worked smoothly and responsively but most important of all was the sound--it is spectacular--so natural and smooth, it took me a minute to adjust to the overall feeling it imparts to my in-progress mixes. Compared to a lot of plug-in reverbs that can sound obvious and a little fake, Spaces is a more of a 'vibe' than a specific effect that screams out to you as EFFECT! But having said that, I quickly found plenty of very useful reverb stalwarts in the Instrument Specific Tour folder and even quirky treatments in the Off Beat Locations folder.
The Instrument Specific Folder has especially tailored spaces for brass, strings, choirs, strings but also good treatments for vocals, keys and synths. My favorites (so far as of this early look) are Malibu Stone Courtyard--I used it on a singer who lives in Malibu and Long Tunnel for a couple of moments here and there in a Rock remix.
I liked that each preset is fully described technically--detailing the actually space measured (they were swept with tones), the microphones, pre-amps, Meitner A/D converters, and ATC monitors used. The Sony DRE S777 sampling reverb unit was employed to capture the impulses with most in 8-channel format for surround mixing.
I immediately found Quantum Leap Spaces' true stereo engine to use low CPU after I inserted it in a nearly maxed out session where it worked flawlessly. What I'm coming to realize is that Spaces is special because every preset is based on a unique impulse.
Quantum Leap Spaces runs Native VST, RTAS and AU and is available for both MAC and PC for $299 MSRP. For more information, or to download a trial version (iLok required) visit www.soundsonline.com/spaces.
---
Web Page design is copyright © 2011 by Barry Rudolph