eMedia Bass Method v2.0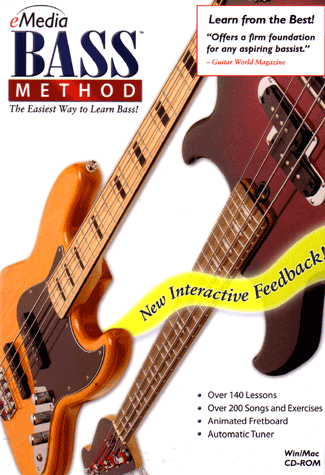 There are over 140 lessons in eMedia's Bass Method v2.0 and they all feature full-screen lessons and remastered video. This is a series of lessons that start at the basics with tuning and learning very simple bass lines. You'll soon move to rhythms and fills and then learn syncopation and shuffles. There are lessons on reading tablature, notation and a new chapter about intervals, scales and triads.
You'll also find all styles in the 30 videos and over 200 songs and exercises. Styles include folk, rock, country and popular songs made famous by Bob Dylan, Steve Miller, Los Lobos, Creedence Clearwater Revival and the Grateful Dead.
All music is recorded multi-track so you can hear track only, bass only, and full track with the bass part included. There are speed-adjustable MIDI sequences of the tracks so you can slow them down if you like. You also get: a digital metronome, automatic tuner and a simple-to-use digital recorder to record yourself in your computer.
eMedia's Bass Method v2.0 is a hybrid CD-ROM that sells for $59.95 and plays on PCs and MACs. More at www.emediamusic.com.
---
Web Page design is copyright © 2011 by Barry Rudolph