Equator Audio D5 Studio Monitors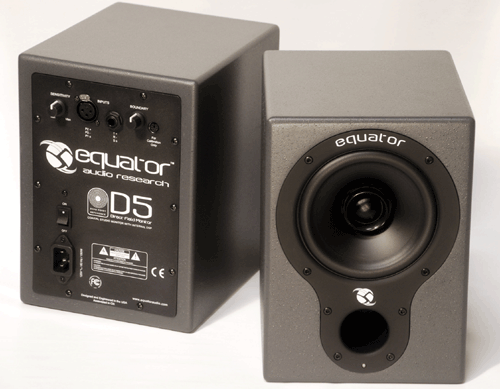 It's about time Equator Audio Research offered worthwhile small powered coaxial studio monitors--they are most qualified to manufacture them based on their experience with full-size coaxial studio speaker systems. The new D5 Direct Field studio monitors are small--9.75 x 7 x 8.5-inches, yet voiced properly enough to be called "reference studio monitors".
The front ported all wood cabinet has a 5.25-inch polypropylene woofer with a coaxially mounted 1-inch silk dome tweeter. These two drivers use a 4th order crossover that has factory applied DSP compensation for reducing mid-range distortion. Frequency response is rated at: 53Hz to 20kHz, They use a Class-D digital amplifier with 100-watts of power (2 x 50w RMS) and their combined SPL is rated at 103 dB @ 1 meter from a pair of them (pretty loud folks for their size).
The D5's rear panel has both XLR and TRS input jacks, a variable level control to set input sensitivity anywhere between +4dB pro and -10dBv consumer levels, and a three-position boundary rotary switch. The boundary switch lets you tailor the speaker's response predicated upon where you place them in your space and how you'd like to use them.
Switch position 1 rolls off the bass centered at 600Hz to flatten the speaker's response if they are to be placed against a wall; position 2 applies no EQ and is good for mixing; and position 3 lifts the bass and treble by only 1 dB and is perfect for free-standing the D5. My tired hearing likes this position for using them here at my Tones 4 $ Studios.
After only a short time incorporating them into my process, I'm finding they are taking the place of at least two of my four other sets of near-field monitors.
Besides the luxury of being self-powered, they are truer sounding than my small (non-powered) 4-inch cubes and don't have the mid-range honk of my Yamaha NS10ms. They also fit in well into my set up--I have them on either side of my video monitor on top of four-inch high wooden plinths that puts them right at head height. The 4-inch cubes are so small they are problematic to place correctly and the Yamahas--well they are NS10ms--by now, an obnoxious "hangover" from the good old days!
I find when checking recording and mixing quality, my previous pair of small powered near fields lack mid-range detail because the top and bottom end is emphasized. The majority of "information" in Pop music mixing is in the mid frequency range and the D5s are the perfect microscope to inspect it.
Right now the D5 sells for under $300 per pair online, factory direct. For additional information on all Equator Audio products, visit the company online at www.equatoraudio.com.
---
Web Page design is copyright © 2011 by Barry Rudolph