Fanny Wang Headphones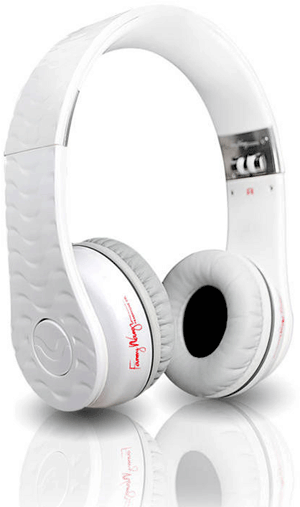 These "just out" headphones surprised me! Usually stereo products this stylish are "all show and no go"--"go" as in sounding good and also well made. I found them to rival my studio headphones very closely in sound--headphones that cost over twice as much and have that typical studio clunky look too.
The all white Fanny Wangs are on-the-ear phones that have an amazing amount of bass response. Bass like this usually requires covering your entire ear to couple the driver well to your ear and head. While this approach is fine for studio work, circumaural designs (that surround the entire ear) tend to get hot and sweaty (for me anyway) when used casually such as when walking, jogging, traveling or just relaxing.
The Fanny Wangs have an extra wide, modern looking soft foam-lined headband with sturdy high tech aluminum hinges, a removable matching white cord with gold-plated 3-mm jacks, and comfortable matching white faux leather ear cups. The headband's aluminum hinge mechanism is part of the tri-fold design that fully collapses for storage or carrying in your luggage.
The cord is short--about 4 feet and is perfect for iPod/iPhone use. It has a clever, patent-pending Fanny Wang inline amazing amount of bass response that allows a friend to "tap in" and hear your music in full stereo on another pair of headphones at the same time. This is (of course) way better than sharing a pair of ear buds--one person gets the left channel and the other the right channel. Lame!
Tech details include: matched, 40mm high performance titanium-plated drivers, a cute suede carry bag, and two-year warranty. In my Tones 4 $ Studios, I found them to sound fat with clear mids and highs much like my studio phones yet lighter and cool looking--I recommend them highly. They sell for $149 MSRP and there is more at www.fannywang.com.
---
Web Page design is copyright © 2011 by Barry Rudolph