Focusrite Midnight Plug-ins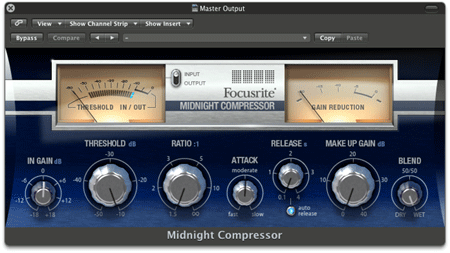 I don't think the Focusrite engineers could find better analog hardware processors to base their new Midnight plug-in bundle on other than the company's famed ISA110 equalizer and ISA130 compressor units. As Native (AU, VST, RTAS) plug-ins for PCs and Macs, the Midnight EQ has all the same frequencies, filter shapes and capabilities as the ISA110 while the Midnight Compressor closely models the performance of Focusrite's top of the line compressor.
For my mix, I immediately went for the four-band Midnight EQ as a good choice for fine-tuning an electric guitar track's overall tone. Like the original hardware unit, this plug-in is gracefully subtle--but instantly produces crankier sounds when hard pressed. The low mid and high mid band sections are parametric with a Q range of 0.67 to 4 and make short work of any radical tone carving if you need to bring back to life less than stellar recordings. My guitar went from a dull and uninteresting place to the "main show" in the track with a big and bright sound mostly due to the EQ's lush-sounding high frequency shelving equalizer section. Also on the Midnight EQ is a thoughtful output level control to reduce level buildup from excessive boosting plus I liked the high and low filter sections to constrain the total audio bandwidth when desired.
The Midnight compressor defaults to a 1.5 compression ratio and it works well to reign in level jumps in a smooth and accurate way. I like the wide adjustment range of the attack and release controls for percussion tracks especially drum tracks where you can dial in the right amount of "hit". The compressor's input level control is super handy for taking care of either too hot or too cold recording input levels so you'll always have the optimum level for proper compressor action. I found extremely useful that, when heavily squashing a snare drum track, I could add back the original sound using the Wet/Dry control.
With a beautifully designed GUI and large VU meters, the Midnight EQ and Compressor make excellent 'bread and butter' everyday processors for any track(s) in your mix. They use minimal DSP--on a session running in Pro Tools 9 on a Mac 8-core, I put a one of each on 100 tracks (that's 200 total plug-in instantiations) with no problems. The bundle sells for $129.99 MSRP and for more information, contact www.focusrite.com
---
Web Page design is copyright © 2011 by Barry Rudolph