Going Pro With Cubase 6 from Course Technology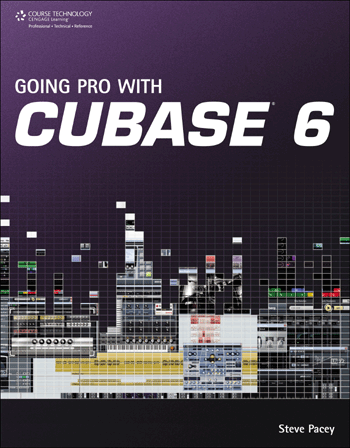 Author Steve Pacey gets you ready to go pro with your Cubase 6 DAW. If that sounds inconsequential, think again! Knowing the program and manual front to back is only the start and this book extends the manual's flat representation with regimented and detailed guidance through advanced editing, recording, and production techniques possible with Cubase. As a consummate pro himself, Pacey is very liberal about offering his many expert tips and tricks too.
Said to be the only professional-level Cubase 6 text on the market, Going Pro With Cubase 6 organizes all its tutorials by workflow--what you want to do and how best to quickly and efficiently do it. And efficiency is the key to working fast and professional--time is money is the old adage and Chapter 1 starts you out with creating templates, organizing your plug-ins, optimizing Cubase, setting up controllers and more--all predicated all your own workflow and the music you are creating.
The book covers using VST instruments, the revised editing tools for MIDI and audio files, maximizing MIDI, advanced audio recording and processing, music mixing, and connecting Cubase to the outside world when required. If you're looking to make money composing music for records, film and television, this book should be one of your first reads. Going Pro With Cubase 6 sells for $29.95 and is available from Course Technology. Check www.courseptr.com.




Going Pro With Cubase 6
---
Web Page design is copyright © 2011 by Barry Rudolph