GuitarPlayer Presents: Guitar Heroes of the '70s from Backbeat Books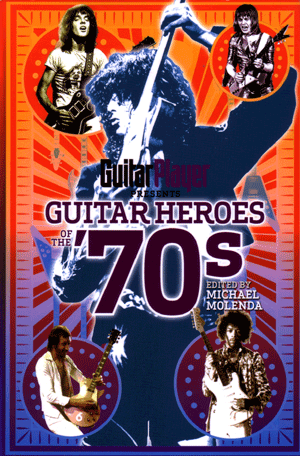 The complete title: GuitarPlayer Presents: Guitar Heroes of the '70s is a collection of vintage interviews of many seminal guitarists/artists captured in their prime. Edited by Michael Molenda, all these interviews were originally conducted and published in the '70s by GuitarPlayer magazine.
These are short glimpses (were interviews shorter in those days?) into the life and times of: Eric Clapton, Jimi Hendrix, Jeff Beck, Jimmy Page, Bonnie Raitt, Johnny Winter, Rick Derringer, Michael Bloomfield, Ry Cooder, Tony Iommi, Mick Ronson, Ron Wood, Joe Walsh, David Gilmore, Randy Bachman, Brian May, Carlos Santana, Frank Zappa and others.
I like the wide range of subject matter covered in these interviews--usually (and thankfully) not staying too close to the interviewer's (or GuitarPlayer's) editorial agenda. Most are 'off-the-cuff' casual--unlike today where every word, it seems, is managed and vetted by a PR firm. You get everything from explaining personal life struggles, musical influences, their favorite "other" guitarist, lots of tech/gear/guitar preferences and information, and a few lamentable music business stories.
My favorite interviews are with Jimmy Page and Eric Clapton. Page talks about his whole process in the studio with Led Zeppelin and Clapton regales his travails when he played in Cream and how he went deaf for a period of time because of extreme stage volumes.
A great little book is GuitarPlayer Presents: Guitar Heroes of the '70s--you can read these short, three to five page interviews in spare moments or read them all in a single sitting--like I did. From BackBeat Books for $14.95, it's available from Backbeat Books and distributed through Hal Leonard. Go to www.backbeatbooks.com for more information.




Guitar Player Presents Guitar Heroes of the '70s
---
Web Page design is copyright © 2011 by Barry Rudolph