Hosa Pro Speaker Cables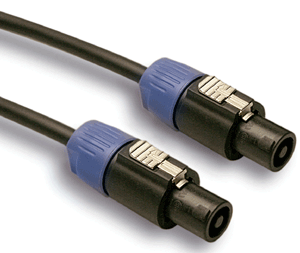 Hosa Pro Speaker Cables provide enhanced signal transmission and audio quality by using high-grade cable stock and REAN® professional loudspeaker connectors by Neutrik AG. But they sell at a mid-line price point. All the cables use 14-gauge oxygen-free copper conductors covered with a black PVC jacket said to provide durability, flexibility, and low visibility on stage.
You can buy these new cables with either standard 1/4-inch TS or tip-sleeve plugs (tested here) or the aforementioned REAN loudspeaker connectors--ready to use anywhere.
The 1/4-inch plugs have nickel-plated contacts for efficient signal transfer, a zinc die-cast housing for good reliability and a "crimp" strain relief is used for the larger-diameter cables. The REAN loudspeaker connectors have silver-plated contacts, a glass-reinforced housing, twist-lock mating system (similar to Neutrik's speakON® brand) and a chuck-type strain relief for maximum cable retention.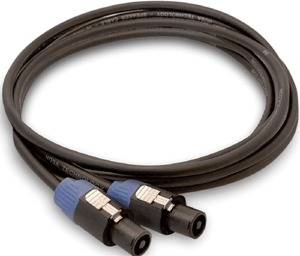 I received a 10-foot; 1/4-inch to 1/4-inch cable and it immediately went to work connecting my 200-watt guitar head to the remote speaker cabinet across the room. As hard as I tried, I could not break it or cause it to fail for the short time I had use of it. The plugs have the jumbo covers made out of metal--not plastic--and they plug in and feel solid in the amp head and cab jacks. This is a heavy-duty cable but it is supple-feeling, coils up easily and did not kink, twist or "misbehave" by being stiff and overly rigid while in use.
Hosa Pro Speaker Cables are available in 3, 5, 10, 25, 50, and 100-foot lengths and you can get them configured as: a loudspeaker-to-loudspeaker with REANs, loudspeaker to 1/4-inch TS, and 1/4-inch TS to 1/4-inch TS. Pricing ranges from about $14 to $169 MSRP. Much more at www.hosatech.com.
---
Web Page design is copyright © 2011 by Barry Rudolph