Instant PopStar Song Kits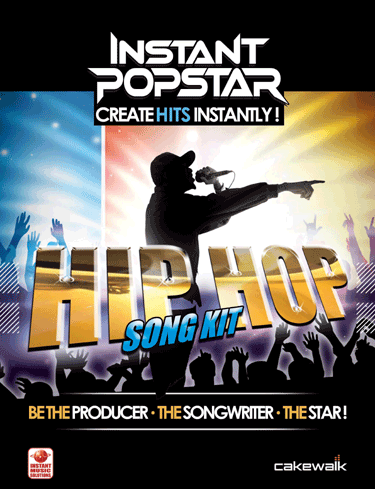 Instant Music Solutions and Cakewalk have released the first collection of Instant PopStar song kits. Instant PopStar construction kits use ACID technology and now come with song templates that'll work great within Cakewalk's Sonar X1 and/or Music Creator 6 software products.
The Instant PopStar technology allows anyone, without any musical knowledge whatsoever, to 'mix n match'--arrange any of hundreds of interchangeable drum loops and song blocks--modules of entire music tracks--into songs ready for your melody, lyric or rhyme. Amazingly, any combination will work--it just comes down to what you like and what 'feels right' for your song composition. Instant Music Solutions' clever content organization and song template design makes the work of musical and sophisticated song track creation easy.
Used professionally everyday by singers, rappers, producers, songwriters and DJ's for producing music tracks for film, TV and jingles, Instant PopStar Song Kits' first bundle includes three different kits in three popular song genres: Electro Pop, Hip Hop and Indie Rock. This is about 2 GB of drumbeats, song blocks, instrument hooks, riffs and effects.
ACID technology allows the Cakewalk products to automatically detect your own selected BPM and the start and end points of each of the loops. This allows seamless, glitch free playback, perfect for solo breaks and build-ups--there are millions of choices.
Each Song Kit sells for $39.95 or purchase the Cakewalk Music Creator 6 / Instant PopStar Bundle (with all three products) for $99.95. Much more at: www.cakewalk.com or www.store.cakewalk.com/b2cus/ProductInfo.aspx?productid=10-MCIM6.00-20E
---
Web Page design is copyright © 2011 by Barry Rudolph