Jensen® Jet Falcon 10 Speaker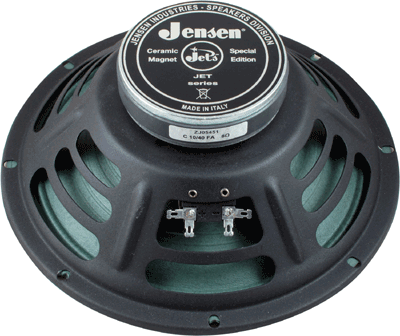 Jensen® Musical Instrument's latest addition to their Jet series is the ten-inch Falcon. It is rated at 40-watts of power and has a strong ceramic magnet. It also features a seamed green cone made from all natural materials.
Said to provide the optimum tone for all styles of music, the Falcon 10 has a warm and straightforward sound with pronounced low frequencies. The mid-range frequencies are also cited as to be slightly enhanced compared to the Falcon 12 with a "very sweet, yet cutting, high end". Look for more Jensen Jet series speaker designs soon.
Check: www.jensentone.com.
---
Web Page design is copyright © 2011 by Barry Rudolph