Korg nanoSERIES2 USB-MIDI Controllers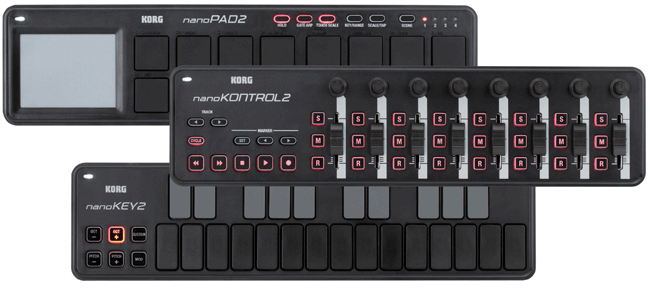 Compact, lightweight, slim and super powerful are what the new Korg nanoSERIES2 controllers are all about. With the same ultra-slim casing as the original nanoSERIES, these new ones' size and color more closely matches the newer laptop computers. Available in white and black the new units, the nanoKEY2, nanoPAD2 and nanoKONTROL2 are for laptop musicians, DJs, remixers--anyone who wants to make music with their Mac or PC.
The nanoKEY2 is a 25-note (2-octaves) keyboard controller modeled after the Mac Book that features a damper button (to mimic a sustain pedal), an octave shift button, key transposition, and assignable pitch bend and modulation buttons.
nanoPAD2 is for pounding out drum parts but it also will record data using an X-Y pad like Korg's Kaossilator Pro. There are now 16 pads (vs. nanoPAD's 12), a Kaossilator gate arpeggiator, and velocity-sensitive pads with the ability to assign chords to them.
nanoKONTROL2 is designed to be an eight-channel DAW controller whose small size works out well when setup along side your laptop computer. It has a dedicated set of transport buttons (running under Mackie HUI protocol) and eight faders each with a knob, fader, and three user-programmable switches for pan, volume, and solo/mute/record or whatever function(s) you desire.
All three nanoSERIES2 controllers are customizable using the included Korg Kontrol Editor software, are USB bus-powered, and offer maximal power and control for any modern DAW. For more information, please visit www.korg.com.
---
Web Page design is copyright © 2011 by Barry Rudolph