KRK KNS 8400 Headphones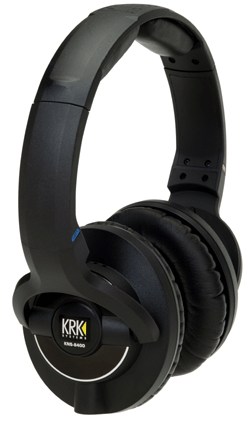 The KRK KNS 6400 ($99) and KNS 8400 ($149) headphones are the new 'monitors' from KRK Systems. Voiced to be in the same 'sonic family' as KRK's studio monitor speakers, these headphones allow you to make objective mix decisions on them--even on-the-go, no matter what studio or other environment you happen to be in.
I received the KNS 8400 and they checked out great in my studio plugged into my Aphex HeadPod 454 headphone amp. They have a no nonsense forward sound and are extremely lightweight at 0.5lbs. They feel light on my head but there are no worries about them flying off no matter how much head banging occur. They fit perfectly because of a self-aligning yoke headband and the comfortable cushions covering the 40-mm closed-back, circum-aural drivers that feature Neodymium magnets.
I liked the detachable in-line volume fader control (included with the (KNS 8400 and optional with the KNS 6400) for in the studio when you and others are sharing the same headphone feed and you'd like it louder or softer than everyone else. I also liked the twist lock cable that cannot inadvertently come out. Although designed as a studio headphone, DJs will love the KNS phones because each driver freely rotates up to 90-degrees for one-ear cueing. But I think there should be a duplicate input socket on right driver--for left-handed DJs where a left side cable might get in the way.
I found them to go louder than is safe and produce a clear sound with low distortion at any volume level. I also noted that the 2.5m cable, ear and head cushions are field-replaceable.
Other features include: a swank carrying bag, cleaning cloth and a gold-plated 1/8-inch to 1/4-inch screw-on adapter. They are rated at 36-ohms impedance (which means they will be OK on your iPod), 97 dB SPL @1mW sensitivity, have a 5Hz-23 kHz frequency response with less than 0.1% harmonic distortion at up to 500mW per side. Get the KRK sound on headphones. Check: www.krksys.com/krk-headphones/kns-8400.html
---
Web Page design is copyright © 2011 by Barry Rudolph