Martin Performing Artist Series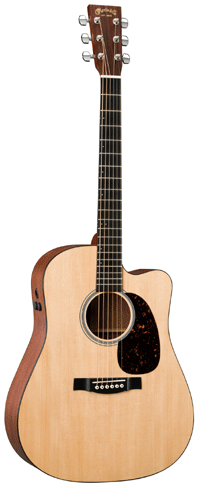 Martin Guitars adds three new acoustic/electric guitars to their Performing Artists series with the PA4 Gloss-Top models. They are the Dreadnought DCPA4 (pictured), Grand Performance GPCPA4, and Orchestra Model OMCPA4.
All three new PA4 models follow their rosewood PA1, PA2 and PA3 predecessors with back and sides made from matched African sapele--a kind of mahogany wood in sound, look and substance. There are book-matched sitka spruce soundboards that use Martin's excellent Hybrid A-Frame scalloped bracing. Notable is the slimmer taper of the neck that results in a more parallel taper by the 12th fret. The bridge spacing has also been changed to 2 3/16-inches--just in between the two traditional string spacing measurements Martin has always used.
The Martin PA1, PA2 and PA3 Performing Artist Series models feature the Fishman F1 Aura electronics while the PA4 models come with the Fishman Analog electronics. Much more information is available at: www.martinguitar.com
---
Web Page design is copyright © 2011 by Barry Rudolph