Mod Kits DIY Verb Pedal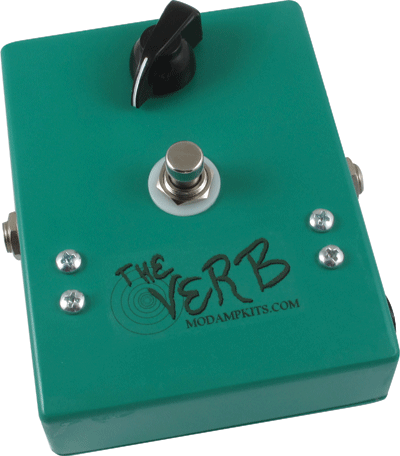 The Verb pedal is one of many pedal and amp kits offered by Mod™ Kits DIY. If you are handy with a few small tools and know how to solder, try building your next pedal as these kits sell for about one third of the best price you'd pay for any manufactured pedal. All kits come with easy-to-follow instructions and use 'old school' point-to-point wiring--no printed circuits. The pedal box enclosure comes pre-drilled and all the necessary parts are included even the control knobs.

I received the Verb pedal for evaluation and it is based around the Belton Digi-Log module--a reverb module design to replace old dead spring reverb units. It took me about three hours start to finish to assemble the kit. I liked the extremely clear instructions that have lots of pictures and helpful suggestions. I also like that the kits use old fashion terminal strips that are large and easy to wrap and solder component leads to.

Except for forgetting to solder one joint, the pedal worked the first time I plugged it in. It produces a warm analog-like reverb that sounds good and subtle on guitar. At $74.95, it's the best deal in town for a reverb pedal.

Other kits available are: MOD 101 Guitar Amp Kit ($495), a 60-watt model with tube your choice of either 6L6 tubes or EL34 tubes and 32 different circuit variations to suit your tonal preferences; Rattler at ($49.95) is a 60's and 70's fuzz tone pedal; Piledriver ($24.95) is a clean boost kit with up to 38dB of gain; Persuader ($64.95) is a tube pre-amp pedal built around a real 12AX7 tube; and the Enticer ($99.95) is a limited edition tube overdrive pedal kit based on a new-old-stock original RCA 12AU7A tube.

Much more about all these excellent little kits at: www.modkitsdiy.com.







---
Web Page design is copyright © 2011 by Barry Rudolph