Planet Waves Guitar Tools iPhone App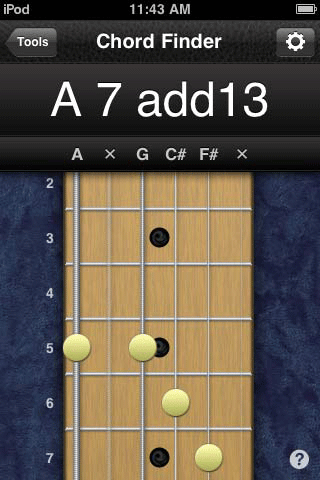 Another very useful guitar player tool comes from Planet Waves and it's called Guitar Tools. I've been using this one for about a month now and I have good uses for all seven of its utilities.
I like the Chordmaster with its two parts: Chords and Chord Finder. Chords shows me the tablature of the chords I wanted to learn--simply page through all chord types with the rotary selection wheel and then strum across the virtual fret board to hear what they sound like.
GT uses a realistic quasi-electric guitar sound for this. In a similar fashion, Chord Finder lets you build any chord you like and hear its sound. To keep you honest, it also tells you when you have built "No Chord" by way of bogus note selection.
The Scale Wizard tool uses the same rotary selection dial for selecting any musical scale. You get the scale repeated all up and down the guitar's neck and it automatically steps through each note so you hear the scale. The onboard Tuner is about the best one I've seen yet on an iPhone. It works very well and you can tune using a familiar Roland meter graphic or go "old school style" with a stroboscope display.
Finally the Metronome indicates BPM and features a brightly colored bar that moves from side to side across the iPhone's screen. You can step up/down in one BPM steps or tap a button to match your own tempos. I thought the sound of the click was great--definitively sharp enough in attack but also fat sounding so, if you need it loud on headphones, it doesn't drill your head too much.
Guitar Tools includes a locator for Guitar Teachers and Stores near you. Your iPhone uses your present location to find either teachers or stores in your immediate area. Gotta love that!
Search Planet Waves at the iTunes App Store and download Guitar Tools for $1.99. The application will be available soon for the iPad and Android too. More information at: www.planetwaves.com/iPhone.
---
Web Page design is copyright © 2011 by Barry Rudolph