NS Mini Headstock Tuner from Planet Waves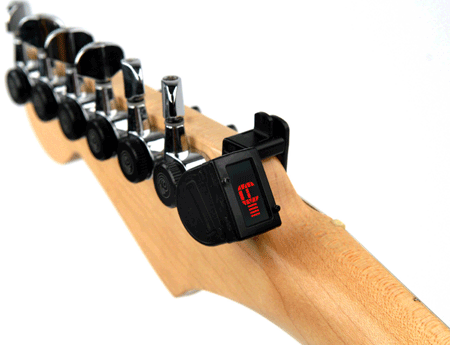 Nearly invisible, the Ned Steinberger-designed NS Mini Headstock Tuner is a wonder. It is so lightweight and small--it is nearly undetectable blending in with your instrument and unseen by the audience because it clips to the back of the headstock.
Forget using separate tuner cables or microphones that "hear" every note in the room, the new NS Mini Headstock Tuner uses the instrument's vibration as its pitch source input. In that way it provides accurate tuning without the annoying interference of ambient room noise. The super-accurate tuning software inside relies on a sensitive piezo-electric sensor system with extra vibration sensitivity for more accurate note registration.
I liked the easy-to-read multi-colored backlit display that is color-coded: the note name shows up in red to indicate when it is out-of-tune and then turns green when it becomes in tune. This system is perfect for loud and dark stages. The new NS Mini Headstock Tuner sells for $29.99 MSRP and for more, visit www.planetwaves.com.
---
Web Page design is copyright © 2011 by Barry Rudolph