GoFlex Satellite™ Mobile Wireless Storage from Seagate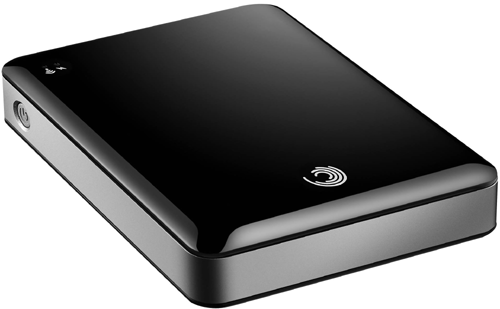 The GoFlex Satellite™ is the first battery-powered, external hard drive that provides additional storage capacity wirelessly to any WiFi enabled mobile device such as an iPad®, iPod Touch®, iPhone®.
Whoa!
This is a 500GB hard drive with WiFi access, a Lithium-Ion rechargeable battery, and the simplest operation you could imagine.
Here is an example of a "technological inversion"--where super complicated technology is made "invisible" and easy to access and use by non-technical people. (the modern communications satelite orbiting the earth that makes satelite TV possible is another example) The GoFlex Satellite is this latest member of Seagate Technology's popular GoFlex hard drive family. It solves the 'iffy' downloading or streaming of large files (choppiness or pixilation) from the Internet these days mainly because you're using not using the Net at all.
Satellite emits its own network signal so no Internet or cable is required. The Wi-Fi signal has a range of approximately 150-feet away with a battery life five continuous hours for video streaming and a stand-by battery life of up to 25-hours. The drive also includes a power supply/charger that will allow it to run continuously while charging at the same time. To help with extending battery life, the free GoFlex Media™ app provides a progressive download feature which temporarily loads the video on to the iOS device it is being streamed to, allowing the drive to go back into standby mode.
The sleek-looking Satellite I received for review has 500GB of actual storage capacity and will store about 300 HD movies but you can also store music, photos and any documents--remember it's a hard drive. You connect it to your computer via a USB 3.0 cable and simply drag files and folders on to its icon on your desktop--it's that simple! It works the same on a MAC (OS 10.5 and above) or a PC.
About the size and weight of a typical Firewire hard drive, you can carry it anywhere; leave it in your luggage and access large files without having to plug-in a cable. It makes sense to save money by buying a lower capacity tablet or iPad and using the Satellite to hold as much data as you'd like--much more than any portable device can hold.
My iPhone 4S (OS 5) connects wirelessly to watch streaming movies, listen to music from a library 50 times the size my phone is capable of holding and/or video files way too large to keep all the time on the phone. There is a free GoFlex Media App on iTunes and laptop users just connect to the GoFlex Satellite over Wi-Fi and use a browser to go to a supplied IP address (but don't go on the Internet) to connect to the drive. Then you're set to download and enjoy movies, music, pictures or view documents.
The Satellite is file and platform agnostic: whatever your computer, phone or iPad will play and use can be stored on it. Droid devices can access the drive by using the browser plus a new app for the Droid platform will be available soon.
I think the GoFlex Satellite is a tremendous product for musicians, songwriters, studios, and film/TV buffs--anyone who regularly works with large files and needs the easiest possible access remotely. It works perfectly with my iPhone 4S streaming giant video or hi-res audio files or accessing any other large files quickly. It sells for $199.99 MSRP. For more information, check www.seagate.com/goflexsatellite/.
---
Web Page design is copyright © 2011 by Barry Rudolph