Shure PGX Digital Wireless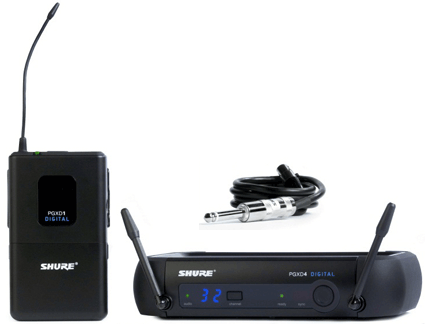 Shure's PGX Digital Wireless uses the 24-bit/48 kHz (Frequency response is 20Hz to 20kHz) digital audio standard for this new 900MHz wireless system. PGX Digital adds to the existing PGX Analog wireless line and both are noteworthy for their extended battery life and user-friendly simplicity. Another important fact is that the PGX Digital system operates in the nationwide 900 MHz band so users do not have to deal with TV channel allocations that change from city to city.
Automatic frequency scan/selection and one-touch sync between transmitter and receiver make setups fast and optimal for your locale. Up to five systems can be used at the same time.
Like PGX Analog, PGX Digital has systems designed for vocalists, guitarists, and presenters with a handheld system matching the sound signatures of the cardioid SM58®. Instrument systems come with either the Beta98H/C clip-on instrument mic or the WA302 guitar cable. Presenter systems include either the WL185 cardioid lavalier, WL93 omnidirectional lavalier, or PG30 headset.
All systems carry a two-year limited warranty and ship with the PGXD4 diversity receiver and a padded carrying case. System nomenclature and prices are: PGXD14 for guitar/bass $536 MSRP; PGXD14/185 with WL185 lavalier microphone $624 MSRP; PGXD14/PG30 with PG30 head worn microphone $599 MSRP; PGXD24/SM58 with SM58® microphone $561 MSRP; and the PGXD24/BETA58 with Beta 58A® $624 MSRP. Visit www.shure.com.
---
Web Page design is copyright © 2011 by Barry Rudolph